Postdoc Spotlight: Seçil Yilmaz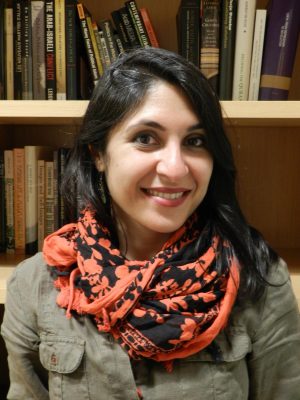 Seçil Yilmaz is featured as part of Cornell's Postdoc Appreciation Week 2017.
What is your area of emphasis? Why is this work important?
My research concentrates on the history of medicine, gender, and sexuality in the late Ottoman Empire by looking at how syphilis was perceived and treated by different segments of the society. This research treats the history of syphilis as a medical and social phenomenon with political and psychological dimensions. I draw on interconnected disciplinary fields such as history of medicine, history of emotions, medical anthropology, and literature to study the bundle of themes tied to the history of a disease. My main motivation is to contribute to the transnational histories of sexuality and medicine by bringing in particularities as well as similarities of Ottoman society's responses to the emerging ideas on health, disease, and sexuality.
What inspired you to choose your field of study?
Since my early graduate studies between Turkey and the United States, I have considered gender and sexuality studies as one of the key intellectual areas of social analysis. My interest in the relationship between the modernization in medicine and disciplining women's bodies broaden as I discovered how men's bodies and moralities were also impacted by the medical discourse and practices. An analysis of history of syphilis presented numerous new questions (and possibilities) about the ways in which we think about gender and sexuality in the late Ottoman Empire.
How has your background influenced your scholarship?
I became interested in the subject of gender and sexuality during my undergraduate study in Turkey, as I became increasingly aware of the ways in which sex and gender play an important role in the construction of social identity and defining the boundaries of our engagement with different sociopolitical questions. And my involvement in the history of medicine is closely influenced by my mother, who was a surgical nurse at one of the largest hospitals in Istanbul. I was exposed to "everyday life" in a hospital when I was a child through the conversations I had with my mother and her colleagues.
What else has influenced your thinking as a researcher or scholar?
Being educated in two different countries—Turkey and the United States—has contributed immensely to my research and scholarship. I gained the skills to think outside of the box by being exposed to a diverse body of students, scholars, and intellectual approaches. For example, teaching about Islamic history in relation to history of gender as well as medicine in public universities in both countries helped me to think about new ways of learning and narrating history.
What other hobbies or activities do you enjoy in your spare time?
I like to explore art and music in my spare time. I also enjoy trying new recipes from the Mediterranean cuisine. Being surrounded by such a beautiful landscape in Ithaca, hiking has become a new passion for me here.
Why did you choose Cornell?
I cannot think of any greater opportunity than being at Cornell as a young scholar with a focus on humanities and social sciences. I came here as part of the Society for the Humanities' "Skin" cohort and to join the Near Eastern Studies department. Dissertation writing requires a long period of intellectual focus about specific questions regarding a particular time frame and region. Thanks to my current postdoctoral position at Cornell, I've had the opportunity to engage in conversations with scholars from many different disciplines, assisting me to gain a broader and more nuanced perspectives.
What's next for you?
I hope to continue my academic career as a tenure-track faculty member at a university prioritizing research as well as teaching.
Do you have any advice for current graduate students?
It is a challenging process to form and finalize an innovative research project. I believe collegiality, collaboration, and being in touch with your social life are essential elements for the quality of your life and your scholarship.
Interview by Sally Kral, communications and outreach assistant in the Graduate School