Student Spotlight: Alexander Cruz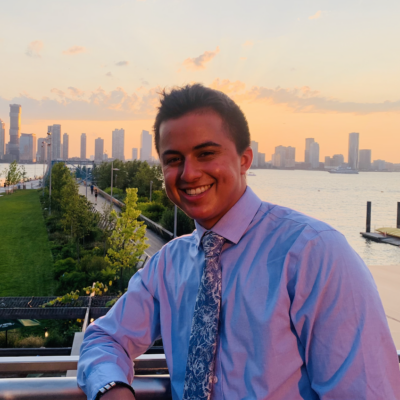 September 25, 2023
Alexander Cruz is a biomedical engineering doctoral student from New Jersey. He earned his bachelor's degree in biochemistry at Simmons University in Boston, Massachusetts and now studies tissue engineering approaches to calcific aortic valve disease under the guidance of Jonathan Butcher at Cornell.
What is your area of research and why is it important?
I am utilizing tissue engineering approaches to better understand the pathology of calcific aortic valve disease (CAVD), a prevalent cardiovascular disease without any treatment options outside of valve replacement surgeries. My thesis is particularly focused on testing drug candidates in hopes of providing patients with pharmacological options. This is exciting work as it would greatly improve the lives of patients who are burdened by this disease. If we can decrease the percentage of these patients having to undergo valve transplantation, their independence, life-expectancy, and quality of life can be greatly improved.
What are the larger implications of this research?
My research has large implications from a global perspective. In medically resource-scarce areas, calcific aortic valve disease is a complication of rheumatic fever. Unfortunately, many of these nations do not have the capability of having elegant surgical suites or surgical staff to perform transplants. My work will provide patients with a drug therapy that can target many of these populations, avoiding fatalities from valve degradation and heart failure. For populations with access to surgical options, there are still many complications post-surgery such as tissue-scarring, immune rejection, and limited lifespan of the implant, a big issue for pediatric patients who will have to undergo multiple surgeries. A pharmacological therapy will decrease the amount of patients needing to undergo transplants, enabling them to enjoy life.
What does it mean to you to have received an HHMI Gilliam Fellowship?
It really means everything. I am so honored to have received this fellowship amongst a pool of incredible applicants. This isn't just a celebration for me, it really is a celebration to everyone who had a hand in getting me to where I am. I am honored for this to be a reflection of the time invested in me by mentors, friends, family, and loved ones. This fellowship allows me to pursue my dream of obtaining my Ph.D., while also fulfilling my love for mentorship and giving back the valuable time others have lent to get me here. Fundamentally, my family, who are Guatemalan and Puerto Rican immigrants, worked so hard to allow me to have the best opportunities possible. There's a phrase my grandmother used to tell me often in Spanish when I opened new chapters—"sigue adelante", which translates to "keep going"—an encouraging way of telling me to keep pursuing my dreams. I plan to do exactly that, uplifting as many people as I can in the process.
What will this fellowship allow you and your advisor to do?
The difference between this HHMI fellowship and other programs is it allows for us to reach outside of the lab. It is not just simply a means of funding my work, but it is intentional in providing funding to help those in outside communities and extend beyond Cornell. It was really clear in the institute's way of structuring this fellowship it was meant to uplift so much more than just the Butcher Lab. Together, Dr. Butcher and I will be running programming to allow high school and undergraduate students access to resources, mentorship, and importantly exposure to research. As a first gen student I figured out many things as I went through the process. My ultimate goal is to help others to obtain the knowledge they need to pursue their dreams by making education and graduate school accessible and attainable. By coming into our lab and getting hands-on experience, students will be able to build confidence and feel connected to their passions. What's more, Dr. Butcher and I will grow in the process as well. This HHMI fellowship shepherds our learning as faculty and trainees in building a lab environment of respect, support, and collaboration. Over the remainder of my time here we will implement what we learn through our outreach programming and HHMI-led workshops to reflect how we can make science in our lab, Cornell, and the community stronger.
What are your hobbies or interests outside of your research or scholarship?
Outside research, I really enjoy being outside, eating, and connecting with people. This is such a beautiful area to be in, and during the warmer months I look forward to swimming in Cayuga Lake, kayaking, or taking advantage of the many state parks we are surrounded by. During winter, one of my favorite things to do is to visit the waterfalls, such as Taughannock, after a few days of chilly weather to see the giant icicles with snow in the background. Additionally, I am always up for trying out restaurants/breweries. I'm a huge soccer fan and enjoy playing pick up or being part of a team during the season. Overall, I really enjoy connecting with friends I have made during my time here in Ithaca. I always say it took a village to get me here and the friendships and support I have during my day to day are unmatched, I'm so thankful to have them.
Why did you choose Cornell to pursue your degree?
I chose Cornell for many reasons, but primarily for the amazing research being done and the collaborative environment in a field like biomedical engineering (BME), which is how revolutionary patient therapies come alive. Additionally, upon interacting with the BME faculty, it was clear they take mentorship very seriously. I knew coming to Cornell they would not only support me during my time here but also beyond. Additionally, the location was perfect for what I was looking for. There is something really grounding in being able to leave the lab and go for a walk around campus and take in the scenery. Furthermore, Ithaca is a community with so much to offer. As graduate students we are part of the more regular residents of Ithaca and I take that role seriously by reflecting on how I can give back to it. I've really enjoyed being a part of the Big Brothers Big Sisters of Ithaca program, and I hope to empower my little to know he can do anything. Overall, there are many aspects of the greater community that extend support on and off campus. It's a very unique place with lots of pride for its people and I admire that a lot.