Student Spotlight: Andrea Robinson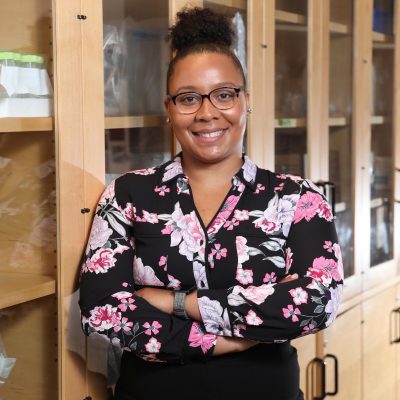 November 15, 2021
Andrea Robinson is a doctoral student in biomedical and biological sciences with a concentration in immunology and infectious disease from Dallas, Texas. After attending the University of North Texas as an undergraduate, she chose to pursue further study at Cornell due to the university's commitment to increasing diversity, sense of community, and impactful research.
What is your area of research and why is it important?
My research investigates the intersection of nutrition and infectious diseases, specifically the role vitamin D plays in vaccine response. I am trying to better understand the association between vitamin D status and the immune system's ability to produce antibodies against certain infectious diseases.
What are the larger implications of this research?
The larger implications of my research are to understand how micronutrient status, specifically micronutrient deficiencies, can affect the immune response. The prevalence of vitamin D deficiency is increasing worldwide so it is important that we understand the impact deficiencies play on the immune system and the body's ability to produce an effective response to vaccination. The emergence of COVID-19, for example, has raised curiosity and the urgent need for more research and evidence on the connection between vitamin D and infectious diseases.
What does it mean to you to be a Dean's Scholar?
Being a Dean's Scholar means being able to have the financial freedom to choose which lab I would like to work in and the ability to devote my time and attention to my research. As a Sloan Scholar, I have been able to network with other faculty and scholars across the country.
What are you most looking forward to in regards to being a Dean's Scholar?
As a Dean's Scholar, I am looking forward to continuing to build my network of scholars, at Cornell and across the country. I also really enjoy being able to meet graduate students in other fields at Cornell.
What are your hobbies or interests outside of your research or scholarship?
Outside of research, I enjoy working out, hanging out with friends, trying new foods, and spending time with my cat and dog. Since COVID, I have picked up roller skating and growing plants as new hobbies.
Why did you choose Cornell to pursue your degree?
I originally became interested in Cornell through Dr. Margaret Bynoe, who spoke very highly of the institution. She encouraged me to apply and experience Cornell for myself. I chose to pursue my Ph.D. at Cornell because of the university's commitment to increasing diversity and the sense of community I felt during my interview. Additionally, I was amazed by Cornell's plethora of great principal investigators working on impactful research that I yearned to be apart of.