Student Spotlight: Anthonia Carter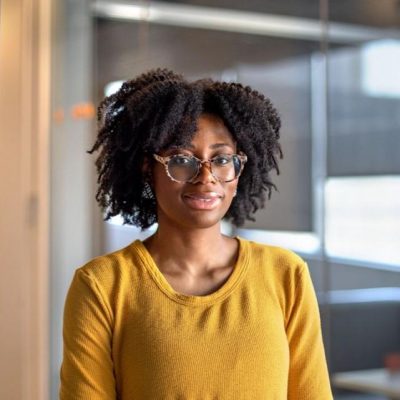 August 9, 2021
Anthonia Carter is a doctoral student in information science from Birmingham, Alabama. After studying at the University of Alabama at Birmingham and earning a B.S. and M.S. in mathematics and post-bac B.F.A. in art studio, she chose to pursue further study at Cornell due to the field of information science's support for interdisciplinary scholars.
What is your area of research and why is it important?
I investigate the ethical, societal, and computational implications of online recommenders underlying ranking systems. In a world full of information and endless choices, rankings play an important part in showcasing a diversity of ideas, knowledge, and products that suit a user's needs. These systems help us filter vast amounts of information. Still, since we, humans, struggle with cognitive overload, top-ranked items (including items most familiar or accessible to us) receive the most attention, introducing position bias.
What are the larger implications of this research?
My doctoral research aims to address position bias in ranking systems by proposing interventions that reallocate exposure amongst diverse content within the context of online crowdfunding platforms. I explore research opportunities at the intersection of machine learning, economic development, and critical design theory to shape better futures centered around the perspectives of historically marginalized voices.
You recently launched a startup, EGK Starters. Can you tell us more about it?
My aim with EGK Starters is to close the opportunity gap between early-stage Black/brown-led startups and Venture Capital. This past year, I launched a virtual, design-led accelerator for Black/brown startup founders in my hometown of Birmingham, Alabama. Over the summer, I am collaborating with VCs and limited partners to explore ways to reduce disparities in early-stage capital allocation. EGK Starters was born out of my intersecting interests in economic development, entrepreneurship, and design-led innovation (design thinking).
Why is this startup and its mission important?
My dream is to live in a world with more multi-million dollar or billion-dollar "unicorn" companies founded by Black and brown entrepreneurs. Sadly, this is not the reality of the world we live in today. With EGK Starters, I am making headway towards realizing this dream. I am taking a holistic approach by providing transformative learning and mentorship experiences to early-stage BIPOC startup founders to position them to raise capital and partnering with investors in implementing strategic initiatives to fund more BIPOC-led startups.
What are your hobbies or interests outside of your research or scholarship?
Sewing has been a stress reliever for me since I embarked on the journey towards the Ph.D. Recently, I have been sewing bags, like zipper pouches, totes, and backpacks. I like that I do not have to fuss with fit when making bags. I also love to screenprint and learned to screenprint while studying art at UAB. I thoroughly enjoy the designing, printing, and sewing process, combining textile arts with printmaking.
Why did you choose Cornell to pursue your degree?
I am a creative misfit –– a mathematician, artist, designer, scholar, and community builder. The field of information science at Cornell was the first academic department where I felt comfortable embracing my whole identity as an interdisciplinary scholar. Here, I am encouraged to explore my intellectual curiosity, blending the analytical and creative aspects of my individuality.