Student Spotlight: Benjamin Rosche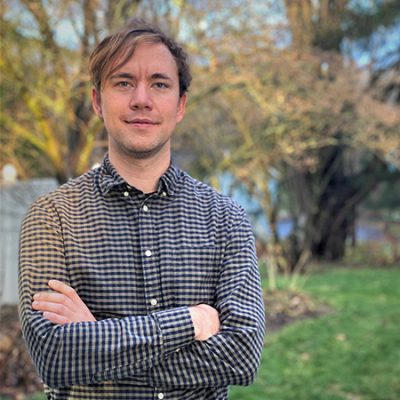 October 15, 2021
Benjamin Rosche is a doctoral candidate in sociology from Stuttgart, Germany. After earning a bachelor's degree in sociology and economics from Mannheim University in Germany and a master's degree in statistics from Utrecht University in the Netherlands, he chose to pursue further study at Cornell due to its opportunities for graduate students and the freedom to pursue individual research.
What is your area of research and why is it important?
I study the conditions that promote friendships that cross socioeconomic boundaries among school children and the implications of such friendships for the long-term educational achievement and economic success of disadvantaged youth. Past research shows that our tendency to become friends with people like us reinforces social inequality. Friendships that cross socioeconomic boundaries, by contrast, may counter this effect by providing disadvantaged youth access to some resources that are otherwise unavailable to them. A deeper understanding of the contextual dependencies, underlying mechanisms, and long-term consequences of such friendships is the goal of this research.
What are the larger implications of this research?
It is often assumed that the limits of solidarity end at family boundaries. The results of this research will (hopefully) inform social policy about broader opportunities for interventions that extend beyond family and school.
You received a $240,000 National Science Foundation Grant for this project. What does it mean to you to have received this grant?
Yes, I am very thankful to have received an NSF grant for this project, which allows me to dedicate all my energy to the research.
What are your hobbies or interests outside of your research or scholarship?
I enjoy being physically active and spending time outdoors. In Ithaca, you can find me running in the mornings, at the squash and tennis courts in the evenings, and hiking or on the lake windsurfing during the weekends. My favorite activity, though, is improvisational theater! Together with a friend, I founded the graduate student improvisational theater club, where we play improv games, laugh, and unwind after work. In case anyone reading this is interested, more information about the club can be found here — we meet Mondays 6:00 – 7:00 p.m. at 388 Uris Hall and are open to all grad students.
Why did you choose Cornell to pursue your degree?
My older sister is married to a veteran who was stationed in Stuttgart at the time. Her husband is a wonderful person, who was like a father to me as I grew up without one. He'd always tell me stories about the U.S., which is why I wanted to live here since I was a child. I chose Cornell because of how much freedom we have to pursue our own research and the opportunities the university provides to grad students.