Student Spotlight: Breanne Kisselstein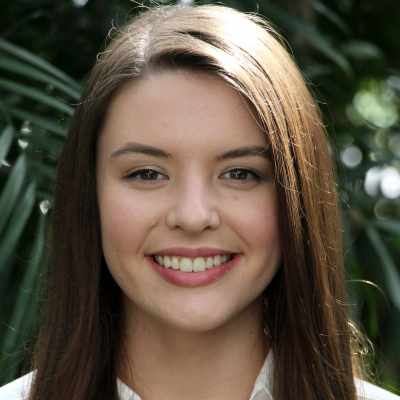 October 28, 2019
Breanne Kisselstein is a doctoral student in plant pathology from Syracuse, New York. After studying molecular bioscience and biotechnology as an undergraduate at Rochester Institute of Technology, she interned at the Cornell AgriTech campus where she solidified her passion for plant disease research.
What is your area of research and why is it important?
I am a plant pathologist which means I study diseases that infect plants. For my doctoral research, I study a particularly devastating plant disease called grapevine powdery mildew. It is caused by a fungus and usually looks like white powder growing on the leaves and berries. While European wine grapes are grown all around the world for their excellent wine quality, they are very often susceptible to this disease and growers rely on fungicides to control it. In my research, I am using a high-throughput genetic tool called AmpSeq (Amplicon Sequencing) to study how the disease spreads as well as how it becomes resistant to the fungicides we rely on to grow wine grapes around the world, including the Finger Lakes region.
What are the larger implications of this research?
I'm hoping that my research using molecular biology and population genetics will help us understand how the powdery mildews escape our current means of controlling it. I believe this could lead to discoveries that help us control powdery mildews on a variety of crops in the future, and rely less heavily on fungicide use.
What inspired you to choose this field of study and why did you choose Cornell to pursue your degree?
I chose to apply and come to Cornell as a Ph.D. student because of my very rewarding experience as a summer intern at our Cornell AgriTech campus in Geneva, NY. That internship was my first exposure to the field of plant pathology, and made me confident in changing my career path from researching human diseases to plant diseases. While Cornell is world-renowned for its agricultural research, I'm just happy to be part of this tight-knit community of researchers in a low visibility but high-impact profession. Plant pathologists are dedicated to protecting our global food (and wine!) supply.
What is the impact of your fellowship on your research or decision to attend Cornell?
I have been very fortunate in funding. I received the Cornell Graduate School's Dean's Excellence Fellowship my first year and also receive support from the USDA. Cornell's fellowship rate was higher than other graduate schools I was accepted to, but I chose Cornell because of people, not money. I wanted to collaborate with the researchers I interned with at Cornell AgriTech and grow my network of scientists in the field of plant pathology.
What are your hobbies or interests outside of your research or scholarship?
When I'm not in the vineyard or the lab, I love to enjoy Seneca Lake with my dog, try all of the local Finger Lakes ice creams, and exercise and practice martial arts.