Student Spotlight: Daniel Reza Sabzghabaei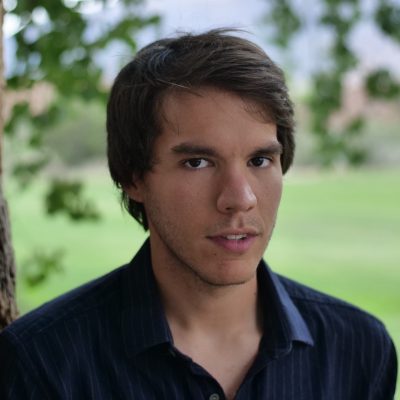 April 4, 2022
Daniel Reza Sabzghabaei is a doctoral candidate in music from Denton, Texas. He attended the University of North Texas as an undergraduate and now studies music composition with a focus on time malleability.
What is your area of research and why is it important?
In my research and practice, I am interested in time malleability: the ways that our experience of time ebbs and flows. I love exploring instances in artistic works and our lives which bring about fleeting bits of temporal instability. Lately, traditional Persian music has been creating these moments for me. My recent research explores the work of Persian master singer/composer/activist Mohammed-Reza Shajarian and the ways he navigates time and form in his music. As an Iranian-American artist, my work is important, because it strives to center Iranian art+artists in a field which often lacks equal representation: classical music.
What are the larger implications of this research and what is its impact?
Through my work and research as an artist and scholar, I wish that a wider swath of peoples come to not just know, but become very familiar with Iranian artists and the work they create. I aim to keep the important work Shajarian undertook alive and studied for years to come: one day, I want names like Shajarian, Delkash, and Lotfi to become as commonplace as Bach, Beethoven, and Mozart. I also hope that my work, and the work of other Iranian artists, can continually redefine the label of "Iranian Music" that is often applied to us.
What does it mean to you to have been selected as grand prize winner of the New York Youth Symphony (NYYS) First Music commissioning program for chamber music?
Since 1984, The First Music commissioning program has been supporting early career composers with this valuable initiative, and it has become a very sought after prize in the American contemporary music scene. Many outstanding composers I respect very much have received this commission, among them multiple Pulitzer and Rome Prize winners, a number of Guggenheim Fellows, as well as a number of Cornell alumni, and I'm so excited to be joining this roster of distinguished American creators.
What will this selection allow you to do that you may not have otherwise been able to?
To collaborate with one of the best youth ensembles in the nation is a rare opportunity, and the platform it provides is particularly special. One of the hardest things to find in my field is visibility, so the chance to have my music played at both Carnegie Hall and Michigan's Interlochen Center for the Arts is something exceedingly hard to come by: multiple performances of my work at two distinguished venues for crowds full of new potential commissioners, supporters, collaborators, and contemporary music lovers.
What are your hobbies or interests outside of your research or scholarship?
I love playing soccer and basketball, working on my Farsi, reading and translating Persian poetry, playing video games (especially Super Smash Bros), watching way too many YouTube videos, trying new foods, searching for new experiences, watching films from around the world, and making (the best) guacamole (in the world).
Why did you choose Cornell to pursue your degree?
I chose Cornell because of its long list of outstanding alumni composers, inspiring and respected music faculty members like Kevin Ernste and Andrew Hicks, the freedom the program provides to explore music and projects I find most engrossing, the lively international community, the amazing Farsi language and Persian anthropological courses taught by professors like Iago Gocheleishvili and Seema Golestaneh, and perhaps most importantly, the small cohort sizes (around one to two per year) enabling the department to give my colleagues and I a great deal of support, care, and attention, something which has been essential to my growth as an artist and scholar.