Student Spotlight: Dhruv Agarwal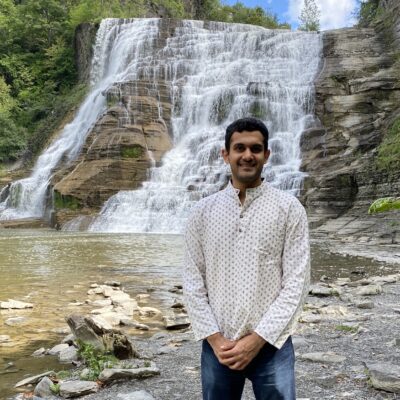 December 12, 2022
Dhruv Agarwal is a doctoral student in information science from Gurgaon, India. He studied computer science at Ashoka University in India as an undergraduate and now looks to design responsible AI technologies for marginalized people in high-stakes settings at Cornell.
What is your area of research or scholarship and why is it important?
I design, build, and evaluate technologies for underserved communities. Specifically, my goal is to design responsible AI technologies for marginalized people in high-stakes health care settings. While AI has had a dramatic impact on health care already, these technologies are currently excluding billions of those who are illiterate, speak low-resource languages, live in poverty, or do not have access to the internet. I want to (a) understand how underserved communities engage with such systems and then (b) build and deploy new AI systems that are fair, transparent, and explainable in real-world settings to improve health outcomes.
What are the larger implications of this research or scholarship?
Ill-designed technologies have the potential to cause harm to the very communities they are designed to serve. For example, technologies like AI have had a disproportionate negative impact on marginalized communities globally. My work will focus on building AI products that low-resource users understand, thereby giving them more agency on when (or when not) to trust AI. For example, just like a government employment scheme in India would not work without knowing the realities of rural employment, AI-infused technologies are unlikely to work at scale without a dialogue with these "next billion users." Therefore, my work will inform AI policy that can effectively shape nation-scale technology.
What does it mean to you to have been selected as an inaugural Quad Fellow?
Since the Quad Fellowship focuses on the social and policy impact of STEM, my selection is a recognition that the problems I work on are important beyond the academic community.
What will this fellowship allow you to do that you might not have been able to otherwise?
The fellowship involves a cross-cultural exchange between students from four different countries. This includes a residential experience in Australia in the summer of 2023. These avenues will allow me to discuss my work and test its generalizability across various communities. The fellowship will also allow me to learn how to translate academic research into actionable policies that aim to achieve social good.
What are your hobbies or interests outside of your research or scholarship?
I am a sports fanatic, I love watching and playing all sorts of sports! I played lawn tennis competitively until high school and enjoy playing squash and soccer. I also love cooking!
Why did you choose Cornell to pursue your degree?
Of course, the field of information science at Cornell is amongst the best in the world working toward socially impactful usage of technology. The deciding factor for me, however, was the sense of community I saw at the (virtual) visit days which gave me the confidence to pick Cornell as my home for the next five years.