Student Spotlight: Ella Taagen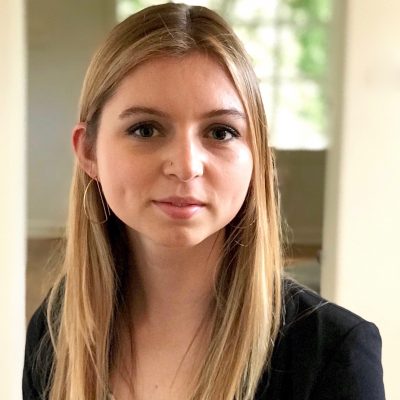 September 8, 2020
Ella Taagen is a doctoral student in plant breeding with a focus on plant genetics from Seattle, Washington. As a 2020 Borlaug Scholar, she is connecting with other scientists in her field and studying genetic recombination in plants to work toward global food security.
What is your area of research and why is it important? What are the larger implications of this research?
Global food security continues to be one of the most pressing issues facing the planet. The importance of enhancing the productivity and sustainability of agriculture motivates me to apply my quantitative genetics, bioinformatics, and molecular biology skillset to uncovering the mechanisms driving desirable plant varieties. Specifically, I study the variation and limit of genetic recombination in plants, which I believe is key to developing novel technologies and more efficiently harnessing the power of selection for plant breeding. For example, presently a wheat breeder must evaluate hundreds of plots over upwards of eight years to breed a new variety of wheat. Whether we are seeking a new variety that can be grown with fewer agricultural inputs, or offers a better nutritional profile, greater control over genetic recombination has the potential to dramatically reduce the time and cost to deliver improved plant varieties for farmers, consumers, and the environment.
What inspired you to choose this field of study and why did you choose Cornell to pursue your degree?
I grew up in Seattle, surrounded by biotech companies, and became very interested in global health and nutrition at a young age. At the University of Washington, I was introduced to plant genetics in a biology class. When I learned that plant genetic improvement has a tight relationship to food security, I became fascinated and wanted to study at a land grant institution as fast as I could. With a little research Cornell University stood out as a global leader in plant sciences, but it took more research to find the right graduate advisor. Dr. Mark Sorrells is a terrific advisor because he has a hands-off approach but also knows when to ask tough questions, which has allowed me to grow and develop my own research voice. I have a skillset that intersects at quantitative genetics and molecular biology, and I chose to apply those skills to plants because food security is a pressing issue that we will continue to face with climate change as well as the resulting impacts on human and agricultural migrations.
What does it mean to you to have been selected as a Borlaug Scholar?
I am incredibly humbled to have my name linked to Dr. Borlaug, who has long been a positive role model for science and humanity. Personally, the award is a reminder that shaping agriculture through sustainable breakthrough innovations takes generations of commitment. Professionally, the award has opened doors to a broad network of scientists who are equally committed to our collective vision to provide effective, affordable, and quicker responses to the challenges our food system faces.
How important has the mentorship component of the program been to your professional development?
The Borlaug Scholar mentorship is invaluable in providing a window into industry's vision of successful leadership and self-directed career growth. I've come to discover my energy for cultivating the strengths of team members and empowering collective progress in the course of my Ph.D., and I look forward to learning from my mentor David Bubeck's career path and expert insight as a research director at Corteva. While it is clear that the transition from academia to industry overlaps with many transferable skills learned during the pursuit of a Ph.D., it also requires adjustments to new definitions and company cultures. Recently I learned how important it is to nail the behavioral interview- use the SMART method!
How has participation in this program influenced your thinking on plans post-degree conferral?
Mentorship has always been pivotal for me as a student, and as I consider a career path outside of academia, I'm eager to seek insight from professionals outside of the academy. From one-on-one meetings with David, to the expanding professional network that the program has provided, the experience has further solidified my career interest in industry research and development. I'm particularly drawn to industry because of the team-based dynamics in diversified and applied programs of research and value placed on interpersonal skills.
What did you take away from the recent annual conference?
The 2020 National Association of Plant Breeders conference was held virtually which allowed for a greater number of attendees, as well as international attendance. While the networking opportunities of an in-person meeting are hard to recreate, the air miles and cost of attending any conference pre-COVID was a limiting factor for sustainability and accessibility. I hope that moving forward we continue to see greater conference and seminar accessibility, and it will be interesting to see how that diversifies the speaker line-up.
What are your hobbies or interests outside of your research or scholarship?
I have really increased my podcast consumption during the pandemic. I like to go for long walks and listen to them, which gets me away from my computer screen. A recent favorite has been You're Wrong About, where the hosts reconsider a person or event that's been miscast in the media and public imagination.