Student Spotlight: Felicia New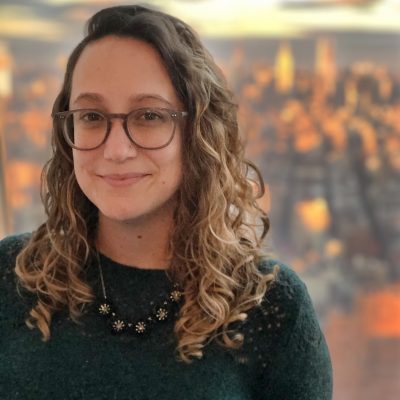 November 25, 2019
Felicia New is a doctoral candidate in genetics, genomics and development from Gainesville, Florida. After earning her bachelor's and master's degrees at the University of Florida, she chose to attend Cornell due to the available resources and research opportunities.
What is your area of research and why is it important?
I am interested in the role of the gut microbiome in our overall health and how our genetics shape the formation and activity of the community of microorganisms that make up the microbiome. My research also focuses on using big data to track the spread of antimicrobial resistance genes between bacteria residing within the gut microbiome. My focus is on developing and applying statistical tools to address these questions about the gut microbiome in novel ways.
What are the larger implications of this research?
Evolutionary changes in the human gut microbiome, what forces shape it in our daily lives, and how it affects human health are all still hotly debated questions in the field. My research aims to contribute to the question of "how" the microbiome is shaped, whether it be primarily due to the environment (i.e. what we eat, where we live), or due to our genetics and ancestry. A pressing issue of our time is the impending antimicrobial resistance crisis. Bacteria have the ability to share genes with each other, including antimicrobial resistance genes, thus contributing to the spread of resistance. If we can track antimicrobial resistance genes on a larger scale, whether through experimental or computational means, we might stand a better chance at fighting the spread of resistance.
What inspired you to choose this field of study?
During my master's research, I studied the patterns of gene expression and population genetics of diverse organisms including fruit flies, maize, and humans. However, I had never worked with something as complex and unexplored as a microbiome. The field is new and research is coming out every day pushing the field forward, and I couldn't wait to be a part of it. Our understanding of how the microbiome is involved in human health is only starting to be understood, and I am excited about the prospect of my research contributing to this.
What led you to found the First Generation and Low Income (FiGLI) Graduate Student Organization?
As welcoming as Cornell's orientation events were, I still felt like something was missing when I joined the campus in 2016. Having won a SUNY Diversity Fellowship, I assumed there would be more support for people from my specific background, but when I got to campus I did not find that community. So, when Rachel King reached out for help in founding this organization, I jumped at the opportunity. It's been a great experience navigating this process with Rachel and Taylor [Brown] and we've learned that if you have an idea, there is usually a way to realize it.
How will this group address issues specific to first generation and low income graduate students?
First and foremost we hope that this group will offer a community for first generation and/or low income graduate students. We also want to serve as a source for information about all of the resources on (and outside of) campus that sometimes get lost after orientation. These resources could include family support, emergency financial funds, fellowships, and more. Finally, we hope to give back to the community and help those who are hoping to get on the path to college and graduate school, but may not have the family support to do so. We hope to work within the surrounding Ithaca community to assist high school students with college preparation, work with college students on navigating the graduate school application process, and more.
What are your hobbies or interests outside of your research or scholarship?
I enjoy organizing and doing outreach within and outside the Cornell community. Every spring, I organize and host a data science hackathon with my advisor to expose students to data, coding, and the microbiome. I am also able to share my love for coding and bioinformatics as a teacher with the Girls Who Code program in Dryden. Within my graduate field, I have served as a student representative, recruitment organizer, GPSA field representative, and as treasurer for our GSA. At home, I'm always baking something new, but my favorite thing to bake is macarons. I also like watching Netflix and spending time with my partner and dog.
Why did you choose Cornell to pursue your degree?
During my master's I met many researchers who had been at Cornell at some point during their careers and I developed a sense that Cornell was an excellent place to do genomics research. While visiting for my interview weekend, I was able to experience Cornell's graduate environment firsthand. There were so many groups pursuing exciting research in my area, lots of resources available to graduate students, and the graduate students in my program seemed happy to be here. Receiving a Graduate School Dean's Scholarship offer with my acceptance was also a deciding factor.