Student Spotlight: Jenna Hershberger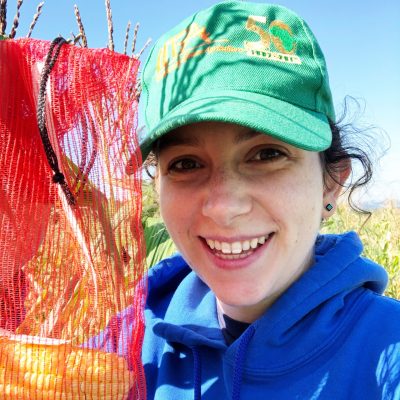 September 8, 2020
Jenna Hershberger is a doctoral candidate in plant breeding from Madison, Wisconsin. As a 2020 Borlaug Scholar, she is connecting with other scientists in her field and working to improve food security through enhanced nutrition and resilience in crops.
What is your area of research and why is it important?
Cassava, a starchy root crop, is a staple food for hundreds of millions of people throughout the tropics. Working with several international cassava breeding programs, I have explored the prediction of root quality traits with low-cost spectrometers, enabling cassava breeders to select high quality varieties more efficiently. I have also developed open-source software for the analysis of spectral data for these and other plant breeding programs. In addition to these projects, I am currently on a USDA NIFA fellowship working to better understand the genetic control of nutritional quality in sweet corn here in New York.
What are the larger implications of this research?
My hope is that the software I've developed will enable plant breeders at every level to take advantage of new spectrometer technologies and implement them in their programs to save time, labor, and financial resources. The knowledge generated from the sweet corn project will better equip breeders to develop varieties of sweet corn with higher vitamin levels, leading to more nutritious options at farm stands and grocery stores across the country.
What inspired you to choose this field of study?
I've always been interested in plant science, but I had no idea what plant breeding was until undergrad, when I ended up working in a carrot breeding lab. I had such a great experience there that I decided that plant breeding was the field for me. It wasn't until years later that I learned that my great grandmother also worked in a plant breeding lab while in undergrad at the University of Illinois – turns out it runs in my family!
For me, plant breeding and genetics is the perfect mix of basic and applied research. I love being able to see the impact that new, more resilient and nutritious cultivars have on both growers and consumers and am passionate about contributing to food security in this way.
What does it mean to you to have been selected as a Borlaug Scholar?
Norman Borlaug, the award's namesake, is one of the great heroes of plant breeding. To be associated with him and identified as one of the top students in my field is a great honor and has already led to making many great connections with other scientists
How important has the mentorship component of the program been to your professional development?
Though my mentor and I have only met once so far, I'm looking forward to continuing our relationship through this year and beyond. It's always great to make new connections at other universities and to learn more about their research and extension programs, and this opportunity is no exception.
How has participation in this program influenced your thinking on plans post-degree conferral?
While it has not changed what I plan to do after graduation, my participation in the Borlaug Scholars program has added to my excitement by exposing me to new scientists and areas of research. I spent most of the NAPB annual dreaming up potential collaborations for my future research program and made some great connections that I'm looking forward to following up on.
What did you take away from the recent annual conference?
More than anything, the annual meeting reminded me why I love the field of plant breeding. I'm proud to belong to such a great group of scientists who have dedicated their careers to developing better plant varieties for producers, processors, consumers, and the environment.
What are your hobbies or interests outside of your research or scholarship?
I started sewing as a creative outlet while studying for my A exam and have been enjoying it ever since. I also love to bake and enjoy exchanging recipes and cooking meals with my friends.
Why did you choose Cornell to pursue your degree?
As someone interested in international agriculture and rural development, Cornell CALS International Programs was a big draw for me. I was offered the opportunity to work on a project here with a large international component and couldn't turn it down. In addition to the academics, I felt like I fit in well with the current graduate students when I visited to interview, so that made the choice even easier.