Student Spotlight: Jennifer Houtz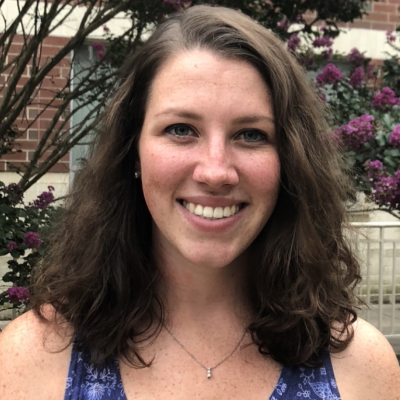 January 18, 2022
Jennifer Houtz is a doctoral candidate in ecology and evolutionary biology from Mifflintown, Pennsylvania. After attending Millersville University as an undergraduate, she chose to pursue further study at Cornell due to the culture of her field and the resources available through the Lab of Ornithology. Houtz is also president of the First Generation and Low Income Graduate Student Organization.
What is your area of research and why is it important?
I study how gut microbiota impact host health and fitness in wild birds. Gut microbiota can communicate with the host brain and influence how organisms respond to challenges in the wild. My thesis focuses on how gut microbiota diversity and composition relate to stress-related changes in physiology and behavior in tree swallows (Tachycineta bicolor). Understanding if and how gut microbiota change in response to the environment may allow scientists to use it as a biomarker of stress resilience in wild populations.
What are the larger implications of this research and what is its impact?
Aerial insectivores (birds that eat flying insects) such as tree swallows have significantly declined by 15-40% in recent decades across North America. An organism's ability to cope with ecological challenges can influence the likelihood of survival and reproduction. Identifying which aspects of host physiology, such as gut microbiota diversity, are most susceptible to environmental change may help explain individual variation in stress responsiveness. These findings may inform conservation decisions for declining species as we continue to experience an era of environmental changes at unprecedented rates.
As current president of the First Generation and Low Income Graduate Student Organization (FiGLI), can you speak to FiGLI's current outreach initiatives focused on increasing access to higher education?
FiGLI is collaborating with Tompkins Cortland Community College (TC3) to offer their students a workshop series called First Generation for the Next Generation: Strategies for Academic Success. Members of rural communities can feel unwelcome in higher education settings. To grow and recognize their own power, academic support and a feeling of belonging is especially significant for students from rural spaces. FiGLI leadership and Associate Professor of English at TC3, Dr. Anndrea Mathers, started the First Generation for the Next Generation project with the intention to increase awareness of students' own potential and to open doors that students believed to be closed. The current series consists of two panels and three workshops, all virtual. The first panel, led by TC3 faculty, answered questions from Cornell graduate students and postdocs interested in learning more about teaching at a community college. The second panel, led by Cornell graduate and undergraduate researchers, offered an opportunity for TC3 students to ask students with different, and relatable, backgrounds questions about their academic trajectories. Then we held three workshops for TC3 students on topics including conducting research in undergrad both locally and internationally, navigating and overcoming the hidden curriculum of college, and how to apply to a four-year institution.
How is FiGLI addressing issues specific to first generation and low income students through these initiatives?
FiGLI organizes professional development workshops that aim to remove financial and social barriers for first generation and low income graduate students. For example, few financial literacy resources take into consideration the unique context of low income graduate students who are often upwardly mobile, but may also lack access to cultural capital on how to most strategically manage their finances. To increase financial literacy, FiGLI has partnered with Alternatives Credit Union to offer workshops on credit and investments for first generation and low income graduate students. We also host faculty seminar speakers who discuss professional experiences as a first-generation college graduate in academia and how to strategically use academic social media to promote yourself and build your network.
What are your hobbies or interests outside of your research or scholarship?
Outside of research, I am passionate about science outreach and undergraduate mentoring. I love to encourage younger generations to confidently pursue a career in STEM by sharing my own experiences with them. I also love hiking, kayaking, and dancing (ballet, jazz, and tap) in my spare time.
Why did you choose Cornell to pursue your degree?
I chose Cornell because of the collaborative and welcoming culture of my field. Everyone I've met at Cornell has been nothing but supportive of my research and career goals. The Cornell Lab of Ornithology also offers ample resources and opportunities for anyone studying birds.