Student Spotlight: Johana Uribe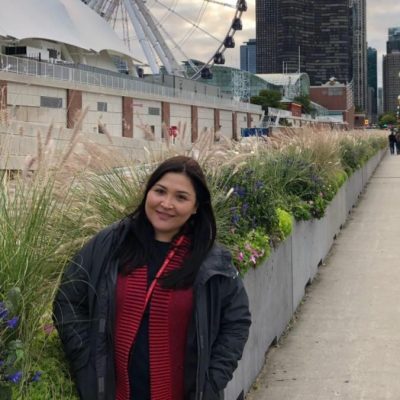 June 29, 2020
Johana Uribe is a doctoral candidate in biomedical engineering from Medellin, Colombia. She chose to pursue a doctorate at Cornell due to its welcoming environment, the students and professors in her field, and the diverse community.
What is your area of research and why is it important?
My research aims to investigate the dynamic interactions between cancer extracellular vesicles (cEVs) and adipose derived stem cells (ADSCs). cEVs are vesicles secreted by cancer cells which contain genetic information from the mother cancer cell. This information is delivered to ADSCs leading to biological changes that favor cancer progression and metastasis. Therefore, understanding interactions between cEVs and ADSCs is imperative to develop treatments and therapeutics to stop them and their contribution to metastasis.
What are the larger implications of this research?
As I mentioned above, if we can understand the molecular mechanisms of the interactions happening between cEVs and ADSCs, it will be possible to find ways to block those interactions. In the future, therapeutics based on blocking those interactions could be possibly used as anti-metastasis treatments. 92% of the cancer-related deaths are due to metastasis and not to cancer in the primary tumor; therefore, stopping metastasis is essential in cancer research today.
What inspired you to choose this field of study?
During my undergraduate studies in bioengineering, we studied many different diseases and focuses for research. However, cancer and cardiovascular diseases always captured my attention; specially, the fact that changing mechanical properties in certain parts of our bodies will lead to so many health complications and, in some cases, fatal outcomes. I had the opportunity to do research in both areas and they are both fascinating, but I think cancer had a different meaning in my life since we have so many cases in my family and I felt that working on one of the possible ways to stop its propagation was my duty to my family and society.
What does it mean to you to be a Bouchet scholar?
Being a Bouchet Scholar is an immense honor to me. During my college and grad school years, I have been focused on getting strong foundations for my education and on building a strong Character, Leadership and Advocacy skills, Scholarship, and more importantly, Service. Therefore, being recognized for these CLASS skills and being part of such a prestigious society is an event that makes me incredibly proud and fortunate.
How do you exemplify the five pillars of the Bouchet Society – character, leadership, advocacy, scholarship, and service?
My undergraduate and graduate school paths have not been easy. However, all the effort and hard work I have done to be where I am now have paid off. Those obstacles that I had faced during my education years have given me character to pursue my dreams. One of the main secrets to overcome these difficulties has been my scholarship; I dedicated many years of my life to study in order to have good grades and financial help to reward my efforts. However, I had also work as a mentor to others that came from my same background to advocate for them to have great opportunities in their life. I had worked with many communities, but mostly, working with the Diversity Programs in Engineering (DPE) has given me the opportunity to serve my community as a leader and mentor for future engineers and/or scientists. I believe that my duty is to help others to follow their dreams and have the same opportunities I have had.
What are your hobbies or interests outside of your research or scholarship?
I spend most of my time in lab doing research or at home writing about my research. The little extra time that I get I love to spend cooking. Cooking is my passion and even if it is a lot of work, it is a therapy for me. I get to relax and use my creativity while making new recipes and I love to share them with my people as an expression of love. My second passion is traveling. I have not finished a trip when I am planning the next one. I love going to new places, getting to know their people and culture, and enjoying their authentic food.
Why did you choose Cornell to pursue your degree?
When I visited Cornell for the first time, I felt a welcoming environment that I did not experience either in my undergraduate institution or at the rest of the schools I was considering for my Ph.D. Contrary to what I was expecting from an Ivy League school, Cornell's community made me feel like at home and made me feel that I belong to a place. The students and professors in my department were very approachable and the diversity of the school captured my attention and my desire to stay in Ithaca. Cornell's diversity is for me one of the main reasons why this place is an amazing place to develop not just my academic/research skills, but also my personal character.