Student Spotlight: Kelsey Utne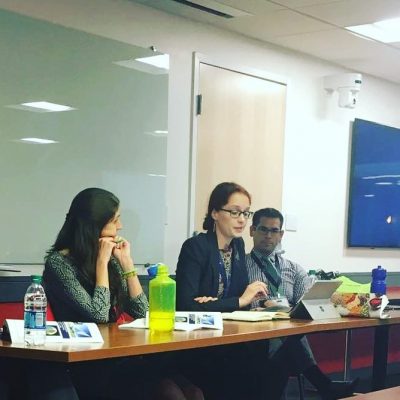 What is your area of research?
My dissertation examines the politics of dead bodies and space in 20th century India and Pakistan in order to answer the question: what was the political role of the dead in the articulation of national identities in modern South Asia? Studying both the late colonial and early postcolonial states' administration of the disposal, (re)location, and commemoration of human remains, I focus on the years between the close of World War I in 1918 and the 1957 centenary of postcolonial celebrations for India's First War of Independence (also called the Mutiny of 1857). Both popular and official acts of mourning and martyrdom created a landscape for the living marked by graveyards, cremation grounds, and massacre and assassination sites. I further ask how the management and placement of dead bodies and their corresponding commemorations impacted the formation of national and religious identities.
What inspired you to choose this field of study?
For several years I worked at historic sites and museums in Salem, Massachusetts. As I gained a deep appreciation for the role public history plays in society's conceptions of the past, the experience compelled me to study that relationship in my undergraduate history classes. As a graduate student first at the University of Washington and now at Cornell, I keep circling back to questions about the implications of how we present history, engage with history, and change representations of history in public spaces.
Why is this research important?
We tend to take for granted how much of our world is shaped and reshaped by the dead. Places become pilgrimage and tourist sites because someone, now dead, once lived there, was born there, died there, is buried there, has their name inscribed there. From the former site of the World Trade Center to the exact spot of Gandhi's assassination, places associated with death and the dead become central to the stories we tell ourselves and how we move through space on a daily basis. My individual work on South Asia is one part of a much larger interdisciplinary examination of how the dead and living continue to interact.
How do you integrate research into your teaching or vice versa?
Classroom teaching often requires that I break down material into component parts in a way I normally might not. In graduate classes, we often assume that our peers already possess familiarity with certain concepts, individuals, events, and debates in the field. As newcomers to the subject matter, my students force me to articulate with precision and logical clarity, which I in turn carry into my writing. Working with them teaches me how to better evaluate what information and ideas are necessary to get to the heart of the issue, and what information seems essential but isn't.
How has your background influenced your scholarship and teaching?
I became a South Asianist by accident. As a history major at Salem State University in Massachusetts, I took a class on Indian history on a whim. My high school history curriculum had been focused on Europe and the United States, and I felt India was somewhere I should know more about. I ended up loving the class in part because of the enthusiasm and dynamic teaching style of the professor, Dr. Michele Louro. I proceeded to take every class she offered and did two independent studies. My regional expertise and research owe much to her consistently challenging me to dig deeper and keep rethinking what I thought I understood. Furthermore, I aspire to emulate her model of teaching and mentor the next generation of students.
I understand you recently received a travel grant from CIRTL at Cornell to attend the Reacting to the Past Faculty Institute this June at Barnard College. Can you tell me a little more about the institute and what you did there?
For many educators, Reacting to the Past (RTTP) can be overwhelming initially. Programming at the institute is divided into two categories: discussion panels and experiencing RTTP "games." In addition to attending presentations geared towards educators who are totally new to using RTTP (like myself), I was able to attend discussion panels on using it in prison classrooms and promoting inclusivity in immersive learning environments. Experiencing one of the RTTP games as a participant helped make RTTP implementation less hypothetical. Over the course of two days, along with about 20 other college educators, I took on a role in the newly published Red Clay, 1835: Cherokee Removal and the Meaning of Sovereignty by Laura and Jace Weaver.
How will your participation in this institute influence your research and/or teaching?
I benefitted from attending the institute in two major ways. It allowed me to gain first hand experience with the logistics of using it in the classroom. As a student I had done Model United Nations programs many times, but admittedly I had difficulty wrapping my head around how to have students roleplay historic events in a way that was not overly predetermined and micromanaged. The RTTP programming impressed me in how well it accommodated ahistorical possibilities in student roleplay, while still ensuring that the students also learned the actual history. The second benefit was entirely unplanned. Through participating in the institute, I connected with incredible faculty from institutions across the country. In between sessions and after hours we debated the usefulness (and limits) of immersive pedagogy, accommodating students with trauma and mental health histories, and classrooms as spaces to recreate or dismantle institutional racism. I plan to continue these discussions in preparation for using RTTP in my first FWS next year.
What's next for you?
Right now I am wrapping up teaching a section of Introduction to College Writing at Five Points Correctional Facility, where I teach through the Cornell Prison Education Program. At the end of the summer I begin twelve months of dissertation research in India and the United Kingdom.
Interview by Sally Kral, communications and outreach assistant in the Graduate School