Student Spotlight: Laura Simmons-Stern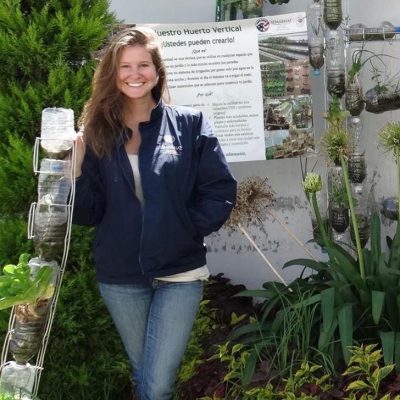 December 3, 2018
Laura Simmons-Stern is a professional student in global development from Needham, Massachusetts. Having earned her bachelor's degree at Connecticut College and volunteered in the Peace Corps, she chose to pursue a Cornell MPS degree to learn valuable skills for her career in a condensed amount of time, allowing her to continue making a difference. While completing her program, she is also currently working as a Peace Corps recruiter for Cornell.
What is your area of focus and why is it important?
My area of focus is on sustainable international development related to climate change resilience. Climate change is arguably the greatest challenge facing humans today, and the communities most effected are the ones contributing least to it. It is imperative that we focus our efforts on navigating and exploring the best methods for ensuring improved livelihoods and food security in a way that both mitigates and adapts to climate change.
What inspired you to choose this professional degree program?
The MPS global development program allows me to have complete flexibility in tailoring my courses to what I feel will help me in my career the most. This allows me to develop the skills and knowledge I need in the shortest amount of time in order to make the most difference in my career. I was also thrilled to be able to be in a program where everyone has had professional experience in development to be able to learn from them.
How did you get involved with your current position of Peace Corps Recruiter?
As a recently returned Peace Corps volunteer, I jumped at the opportunity to support undergraduates in joining the Peace Corps when I heard about the opening. When I was in college I had the opportunity to hear personal stories from a campus recruiter and I remember how much that helped me decide to apply myself. I hope that being able to share my own stories will help to hopefully quell any concerns or misconceptions about Peace Corps and provide greater insight.
How does your work in your MPS program influence your job as recruiter?
The work I am doing in global development is constantly supporting and contributing to my previous experience in the Peace Corps. This work allows me to further explain first-hand to students how being a Peace Corps volunteer can contribute to the perspectives they will bring to classroom discussions. I have found that no matter the topic of my courses, I am able to draw on experiences I had in the Peace Corps. Many students interested in joining the Peace Corps go to graduate school afterward, and so being able to speak to those benefits is always important.
What are your hobbies or interests outside of your research or scholarship?
I would go trail running any day if the weather permitted in Ithaca and am enjoying all of the wonderful trails around the area. My time in Mexico also sparked an interest in Cumbia dancing, and so I am now having fun making a fool of myself trying to learn salsa dancing. While it may be obvious by my field, I also love learning about new cultures and traveling as much as possible.
Why did you choose Cornell to pursue your degree?
I was drawn to Cornell by its unique MPS program in international development, and ultimately chose it because of the incredible resources, connections, and expertise available. Every day I have the opportunity to attend countless lecture series in a multitude of fields and hear from top leaders taking on the most important issues of our time. Most importantly, being constantly surrounded by people who are passionate about what they do is inspiring.
What is next for you?
After I complete this program, I am hoping to work for an innovative international organization whose work focuses on community-based climate change resilience programs.