Student Spotlight: Macy Castaneda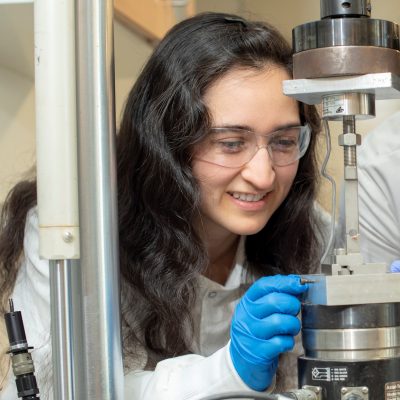 July 6, 2020 — Updated Updated April 10, 2023
Macy Castaneda is a doctoral student in mechanical engineering from Chico, California. After earning a bachelor's degree from the University of California, San Diego, she chose to pursue further study at Cornell under the guidance of Karl Lewis due to opportunities for contribution, the balance students find between scholarship and life, and the surrounding area.
What is your area of research and why is it important?
As a child, you may have been told to drink milk in order to build strong bones. Turns out, a lot of things are needed to keep bones strong: protein cross-linking, crystal mineralization, healthy bone cell activity, sound microarchitecture, and so much more.
Why do we care so much about strong bones anyway? To prevent injuries throughout our daily lives! Especially when we get older. My aim is to analyze the determinants of bone strength with the ultimate goal of preventing and treating fractures or disabilities.
What are the larger implications of this research?
I feel most of us can name a friend or relative who struggles with performing simple tasks as they cry out, "My bones ache!" Okay, maybe they don't all cry out. The point is that bones weaken with age. Bone diseases are becoming increasingly common, leading to disabilities, injuries, and often a lower quality of life as we get older. Until we can find good preventative measures and treatments, the costs, number of fractures, and negative social impact will continue to rise.
What inspired you to choose this field of study?
During undergrad, I worked with engineers who were advancing health care. The concept was completely new to me, as I previously was studying biology and thought that was the only way to help. I was inspired by watching them build, code, iterate, perform complex analyses (like Fourier Transforms), and exploit basic physics to understand mechanosensitive systems. I changed my major to mechanical engineering and when I came to Cornell, my heart was set on joining the biomechanics group, which is full of engineers dedicated to solving issues related to musculoskeletal disease.
What does it mean to you to have received a Ford Fellowship?
I can already see that being a Ford Fellow offers unique responsibilities, opportunities, and powerful tools for change. For example, I joined a listserv of more than 2,000 previous Ford Fellows. We connect over important insights in academia. One professor showed how reviewers missed the point in her sociology publication that focused on the experiences of minorities (it was conditionally accepted with minor edits – small win!). Many create articles, newspapers, fundraisers, awards, research programs, and so much more all dedicated to promoting diversity. And we have the whole Ford family available to get involved and support each other!
What will this fellowship allow you to do that you might not have otherwise?
There are conferences where Ford Fellows go to share their findings. This is particularly special because Ford Fellows study topics from all fields in humanities to STEM to education and more, which is different from conferences that focus on niche topics. I hope to find mentors and role models (to add to the one I have at Cornell) who I can learn from. It is not often I speak with someone outside of my own field, as that is the nature of graduate school. While becoming specialized is important, stepping back to see the bigger picture is necessary.
What does it mean to you to be a Bouchet Scholar? (Added 4/10/23)
I'm honored to join such a strong network of academics who are trying to break boundaries. I hope to connect with them in as well as outside of my Ph.D., and of course if I can contribute or set a good example as a Bouchet Scholar, that's my objective.
How do you exemplify the five pillars of the Bouchet Society—character, leadership, advocacy, scholarship, and service? (Added 4/10/23)
I feel like the five pillars are intertwined in a lot of aspects of my life. I've always wanted to be a researcher, but not in a stereotypically isolated sense of the word. I want to changes thing and make them better. Along the way I want to help as many people as possible.
What are your hobbies or interests outside of your research or scholarship?
I'm far from a competitive athlete, but I prioritize going on hikes or runs around Ithaca. You can clear your mind and focus better that way. Eating delicious food also brings a level of luxury to your life. My friends and I cook together every weekend. In the summer, we do BBQ! In the winter, we bake everything from pan de tres leches to crème brûleè to tiramisu. I also try to read something outside of research that could open my mind or give me valuable life skills.
Why did you choose Cornell to pursue your degree?
Ithaca reminded me of my hometown that was built around a beautiful park. It shared the same greenery, wildlife, and natural water spectacles. Students seemed more balanced and pursued interests for pleasure or personal growth. After I arrived, I learned more important reasons for coming to Cornell. Cornell and the whole Ithaca community have a lot of growing to do – both to support diversity and end discrimination – but I see professors, staff, and students obtaining small wins in every arena, and I know that at Cornell I will learn how to contribute.