Student Spotlight: Mariela Nunez Santos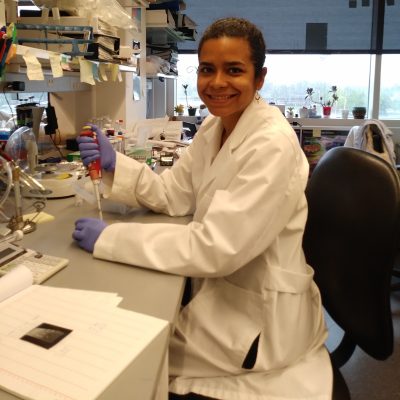 April 11, 2022
Mariela Nunez Santos is a doctoral candidate in biochemistry, molecular and cell biology from the Dominican Republic and Washington Heights in New York City. She earned her bachelor's degree at Bennington College and master's degree at Hunter College and now studies the molecular mechanisms and regulation of progranulin. Nunez Santos is a 2022 Bouchet Scholar.
What is your area of research and why is it important?
My thesis focuses on elucidating the molecular mechanisms and regulation of progranulin, a protein highly linked to neurodegenerative diseases like frontotemporal lobar degeneration and Alzheimer's disease.
What are the larger implications of this research and what is its impact?
By expanding our understanding of progranulin's function, regulation, and role in neurodegeneration we can open new research avenues into therapeutics for neurodegeneration.
What does it mean to you to be a Bouchet Scholar?
To be a Bouchet scholar means to foster an inclusive community in an academic and personal environment. I believe Bouchet Scholars take action when the community is lacking support by stepping up and addressing the issue head-on. This may be in the form of mentoring, creating workshops, and advocating for people from marginalized communities.
How do you exemplify the five pillars of the Bouchet Society – character, leadership, advocacy, scholarship, and service?
As a Bouchet scholar, I take the initiative when I see a fundamental lack of diversity in a classroom, field, or department to help our community. In the spirit of advocacy, leadership, and service I have co-founded the MBG+ Diversity Council and Science and Technology Entry Program-Upward Partnership (STEP-UP). In the MBG + Diversity Council, we create programs that help the student body by improving recruitment and retention and providing academic support tools and mentorship to current graduate students. For STEP-UP, we want to bridge the gap for high schoolers from Tompkins County who are from low socioeconomic status and/or marginalized communities to scientific careers by increasing exposure to scientific content. We create interactive science workshops and we run a summer internship program for the students where they learn about current scientific research and participate in hands-on science projects in labs across Cornell.
What are your hobbies or interests outside of your research or scholarship?
Outside of the scientific environment, I am very passionate about diversity initiatives and community outreach. I participate in many organizations that strive to foster DEI at Cornell. In these communities, especially the Society for Advancement of Chicanos/Hispanics and Native Americans in Science (SACNAS), I have my family away from home. We have a strong support network that has been invaluable in graduate school.
Additionally, I love to dance and Ithaca has a very vibrant dancing community.
Why did you choose Cornell to pursue your degree?
I chose Cornell because of three things. First, I felt a strong sense of community among the graduate students. The graduate students were supportive of each other and very friendly. Second, Cornell has a very collaborative research community and I believe that collaborations are essential to advance all scientific research. Third, Ithaca is beautiful! I really take advantage of all the natural beauty that surrounds Cornell.