Student Spotlight: Mikaela Spruill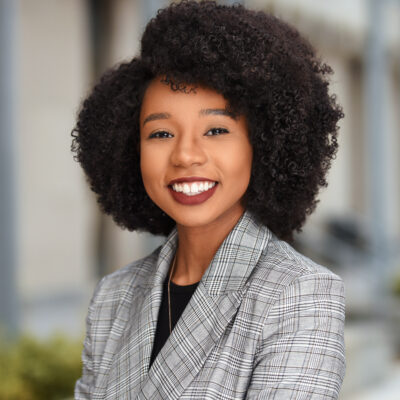 April 10, 2023
Mikaela Spruill is a doctoral candidate in psychology from southern Virginia. She earned her B.S. in neuroscience from the College of William and Mary and her M.A. in experimental psychology from Wake Forest University and now studies the cognitive processes and social contexts that facilitate racial disparities under the guidance of Neil Lewis Jr. at Cornell.
What is your area of research and why is it important?
My research program assesses how individual judgments and decisions within the United States legal system sustain systemic inequities in order to uncover changes that can help ameliorate group-based inequality in our legal system. I work to understand the cognitive processes and social contexts that facilitate large-scale racial disparities via policy preferences and jury decisions.
What are the larger implications of this research?
Through two interdisciplinary lines of scholarship that merge psychological theory with sociological principles, I examine the cognitive processes and social contexts that inform people's decision-making. My research program empirically examines pressing legal questions regarding equity within American society while actively centering the perspectives that have been excluded from legal theory and practice. It is my hope that this work makes central the perspectives that have been pushed to the margins of our legal system.
What does it mean to you to be a Bouchet Scholar?
Once I was accepted to Cornell, I immediately learned about the Edward A. Bouchet Graduate Honor Society through the Black Graduate and Professional Student Association (BGPSA). Over the past five years, I have witnessed some of the most brilliant and selfless students that I looked up to be inducted into the society. They poured excellence into their research and their communities, so to be included alongside that caliber of scholars is very humbling. I feel it is a great honor to be a Bouchet Scholar.
How do you exemplify the five pillars of the Bouchet Society—character, leadership, advocacy, scholarship, and service?
Leadership & Advocacy—I began to lead in positions that promote the professional and social well-being of my fellow URM scholars in my first year on my department's diversity, equity, and inclusion (DEI) committee. I now work directly alongside the faculty as a graduate student representative. Further, I was elected by my peers for three consecutive years to serve as the BGPSA community service chair and then vice president. Being a BGPSA board member allowed me to serve on the Graduate and Professional Student Diversity Council, where I actively advocated in solidarity with my fellow student leaders for justice.
Scholarship—My primary program of research focuses on understanding how structural forces interact with individual-level factors to inform decision-making processes within the legal system. In addition, I also have several research projects focused on assessing the psychological barriers that impact Americans' attitudinal and behavioral support for policies that are posed to advance racial equity. This research has received funding from the Society of Personality and Social Psychology (SPSP), the Society for the Psychological Study of Social Issues (SPSSI), and Cornell's Center for the Study of Inequality and published in the Journal of Experimental Social Psychology, Perspectives on Psychological Science, Analyses of Social Issues and Public Policy, and the Research Handbook in Law and Psychology.
Service & Advocacy—I have worked to increase representation in my field by training and mentoring students in research. I have proudly mentored eight research students, all of whom embody marginalized identities. I supervised one of those students' honors thesis which received highest honors and was named the "2021 Best Inequality Thesis" on Racial Inequality by Cornell's Center for the Study of Inequality. Relatedly, I founded and led the Cornell Psychology DEI Mentorship Program, which has now paired almost 200 undergraduates who are interested in research careers with a graduate student mentor to help them navigate academia. For this work, I recently received an Exemplary Service Award for Advanced Career Students and previously received the 2021 Psychology Department Mentorship Award.
Character—I hope that the above statements speak a bit to my character. I am deeply dedicated to equity and justice and my hope is that my actions express that more than my words could. I have been an active member of the Cornell community since I arrived, and hopefully, these efforts will make navigating this institution a bit easier for the next student.
What are your hobbies or interests outside of your research or scholarship?
I most enjoy spending quality time with my friends and family. But I also love music, so I collect vinyls and I also read quite a bit for leisure.
Why did you choose Cornell to pursue your degree?
Cornell was my first choice. Coming here offered me the opportunity to train under the guidance of some of the field's up-and-coming thought leaders whilst learning alongside the next generation of renowned scholars. It has been quite a journey, but knowing everything that I know now, I would still choose Cornell.