Student Spotlight: Monique Pipkin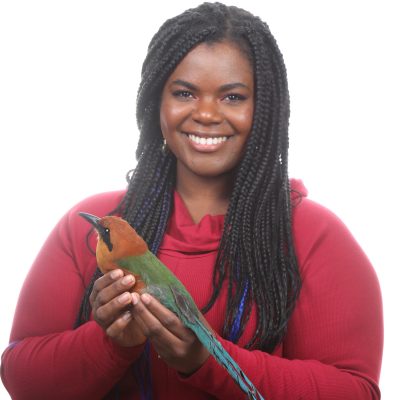 March 8, 2021
Monique Pipkin is a doctoral student in ecology and evolutionary biology from Auburn Hills, Michigan. After earning her undergraduate degree at Western Michigan University, she chose to pursue further study at Cornell due to the quality of research, access to resources, and actions her field takes to improve the culture of science.
What is your area of research and why is it important?
I consider myself a behavioral and functional ecologist. Currently, I study the physiological drivers and behavioral outcomes of feather coloration in birds.
What are the larger implications of this research?
One of my research questions examines how a brief challenge or "stressful event" in one year can affect traits in later years. By understanding how birds respond to "stressful events" we may learn why humans respond to challenges in the ways we do. You can learn more about this in an animation that I narrated and co-wrote with Dr. Maren Vitousek and Dr. Conor Taff: Bird Academy and Youtube.
You co-authored a paper in Nature about safer fieldwork. Tell us about it.
Amelia-Juliette Demery and I cowrote this paper to so that diverse and minoritized individuals can be prepared for potentially risky fieldwork situations that are a result of identity prejudice. It is for the supervisors, departments, and institutions who want to help their researchers but aren't sure where to start or what to consider.
What gave you the idea to write the paper and set up the accompanying workshop?
After several high-profile cases of violence against POC in the media and online movements such as Black Birders Week, I reached out to my colleague Amelia-Juliette Demery and asked, "What do you do to stay safe in the field?" I wanted to write a set of best practices to be implemented in our field of ecology and evolutionary biology (EEB). We set out to do just that and wrote guidelines within a few months. We had encouragement from faculty and peers in EEB, professional societies, committees, and contacts where Amelia was an active member, that these best practices could be a useful resource to share broadly. After the positive feedback received online and being contacted Nature News, our paper was soon accepted into Nature Ecology and Evolution. This fall, Amelia-Juliette was approached by the CALS D&I Committee who were excited in organizing a workshop for Cornell University and this workshop was created.
What are your hobbies or interests outside of your research or scholarship?
I enjoy baking, singing, trivia, playing tabletop games, and exploring the natural areas around Ithaca.
Why did you choose Cornell to pursue your degree?
The quality of research and access to resources such as the Lab of Ornithology are outstanding! However, the reason I chose Cornell over other schools was the graduate student community, the department transparency with past issues, and the actions the department took (and still takes) to improve the culture of science.