Student Spotlight: Paloma Suarez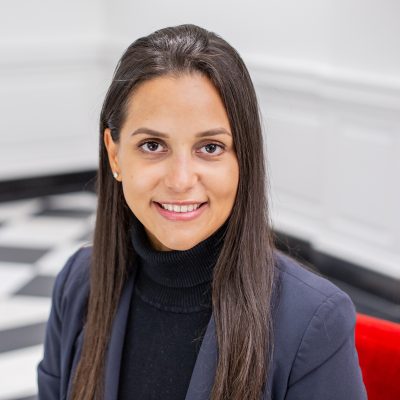 November 21, 2022
Paloma Suarez is a doctoral student in nutrition from Santiago, Dominican Republic. She earned her B.S. and M.P.H. at the University of Massachusetts Amherst and now studies interventions to improve dietary and health outcomes for children and youth in underserved communities at Cornell under the guidance of Tashara Leak.
What is your area of research and why is it important?
My research seeks to create innovative and culturally appropriate interventions to improve and understand dietary behaviors and health outcomes for children and youth in underserved communities. The social determinants of health are key to educate and support the community to create a long-term impact on dietary behaviors and prevent chronic diseases later in life.
What are the larger implications of this research?
My research looks to serve the growing ethnic and racial minority groups by creating programming that is relevant and culturally appropriate to educate these communities about the importance of nutritional healthy choices. The larger implication of my research will help shape public health programming and policies to make healthy lifestyles fun and within reach for children and youth and subsequently their families.
What does it mean to you to be a Dean's Scholar?
Being a Dean's Scholar means having the ability to devote more of my time and attention to research and the courses I am interested in studying. Additionally, it also provides me the opportunity to network with a diverse group of faculty and scholars that I might have not had the opportunity to do so otherwise.
What are you most looking forward to in regards to being a Dean's Scholar?
As a Dean's Scholar, I am looking forward to creating long-lasting networks that can support my work and vice versa. Being able to have a supportive group of multidisciplinary people is instrumental in order to continue to be the change in our community.
What are your hobbies or interests outside of your research or scholarship?
Outside of research, I enjoy being with family and friends, traveling, running, and cooking.
Why did you choose Cornell to pursue your degree?
I chose to pursue my Ph.D. at Cornell because of how well my research interests align with the inspiring and purposeful work my principal investigator is doing. During the interview process, I felt a large sense of community and it made me feel right at home!