Student Spotlight: Reah Chiong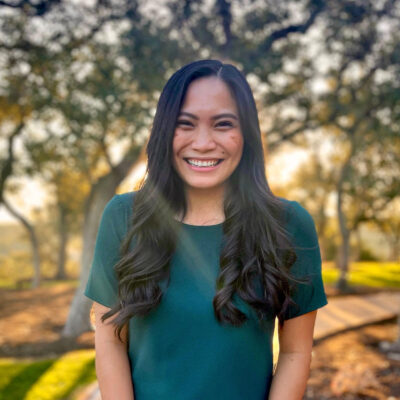 March 6, 2023
Reah Chiong is a doctoral candidate in nutrition from Anaheim, California. She earned her B.S. in nutrition and dietetics at California State University, Long Beach and now studies how stigma is experienced among New York residents who use food assistance programs under the guidance of Roger Figueroa at Cornell.
What is your area of research and why is it important?
My research focuses on promoting food security, particularly through the use of food assistance programs such as the Supplemental Nutrition Assistance Program (SNAP), known formerly as food stamps. For my dissertation, I am exploring how stigma is expressed and experienced among New York residents who currently receive or are applying for SNAP. I hope to develop survey items to then test the association between stigma and food security while accounting for how individuals respond to stigma. Stigma is a major barrier to using social safety net programs in general; understanding it could lead to strategies on how to mitigate it.
What are the larger implications of this research?
Examining the stigmatization surrounding food assistance recipients could improve the sensitivity of government assistance programs like SNAP to eligible non-participants who feel socially discounted to receive aid. My research furthers the discussion on stigma and enables stakeholders such as SNAP program leaders and retailers of SNAP to promote policies and practices within their organizations to prioritize the dignity of all human beings and advocate for the equitable and stable access to nutritious food.
What have you gained by participating in the NextGen Professors Program?
Since participating in the NextGen Professors Program, I have gained incredible resources, advice, and opportunities in my pursuit toward a faculty position. For example, I am learning to construct effective individual development plans, build a strong professional network, and think through and seek help for my application materials even before I enter the job market. Ultimately, not only do I feel equipped, but I feel supported to continue pursuing my goals by Sara Xayarath Hernández, Colleen McLinn, and the Graduate School. I am confident in navigating and succeeding in academia because of this program.
How has this program been helpful in working toward your professional goals?
I have always wanted to become a registered dietitian, a nutrition professor, and researcher in community settings. This program has helped me make connections with other Cornell doctoral and postdoctoral scholars outside my field. Having discussions with other individuals and listening to their advice makes the process of preparing for my future in academia less intimidating. As a result of this program, I have identified gaps in my experiences and fortunately, as a fourth year Ph.D. candidate, I can still seek opportunities to close those gaps and prepare for a competitive job market, whether that's for a postdoc or faculty position.
What are your hobbies or interests outside of your research or scholarship?
Outside of research and scholarship, I enjoy doing yoga, reading, taking care of my plants, and playing with my two cats, Rice and Beans.
Why did you choose Cornell to pursue your degree?
I did my undergraduate studies in Southern California where I was also raised. As I was preparing my graduate school applications, I knew I owed it to myself to experience something different (and that means upstate NY winters), which is one of the reasons I applied here. Another factor is how individualized the Ph.D. program is in the Division of Nutritional Sciences; because there are hardly any required courses, I knew I would have agency in my own learning. The main factor was because of my current advisor, Roger Figueroa. I knew then that he would provide me with the support I needed to thrive.