Student Spotlight: Samantha Bolten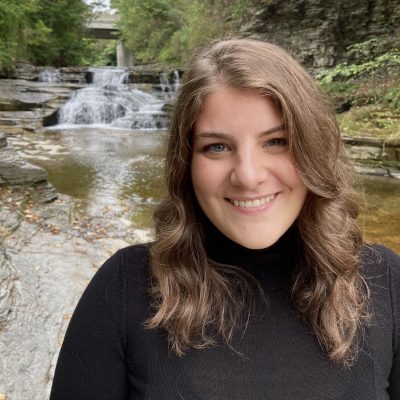 October 25, 2021
Samantha Bolten is a doctoral student in food science and technology with a concentration in food microbiology from Silver Spring, Maryland. After attending University of Maryland, College Park as an undergraduate, she chose to pursue further study at Cornell due to the sense of community and supportive collaboration among members of the field of food science.
What is your area of research and why is it important?
I'm interested in studying factors that are associated with the persistence of the foodborne pathogen Listeria monocytogenes in post-harvest environments. In particular, my research focuses on investigating the mechanisms that allow Listeria to acquire resistance to sanitizers that are used for sanitation of food processing environments. Gaining a better understanding of the ability of Listeria to become resistant to these sanitizers can aid in the development of improved sanitation strategies in food processing environments.
What are the larger implications of this research?
Survival and persistence of foodborne pathogens such as Listeria monocytogenes in food processing environments can lead to contamination of food products, which in turn increases the risk of foodborne illness cases and outbreaks occurring. Therefore, mitigating Listeria persistence in food processing environments is essential for ensuring the safety of foods and improving public health outcomes.
Which conference did you attend with your Graduate School Conference Travel Grant and where did you travel with your Graduate School Conference Travel Grant?
I attended the International Association for Food Protection (IAFP) 2021 conference in Phoenix, Arizona with my Graduate School Conference Travel Grant. While this wasn't my first time presenting research at this specific conference, this was the first time I was provided the opportunity to present my research in the form of a short technical talk as opposed to a poster. In this technical talk, I presented my research on Listeria adaptation to benzalkonium chloride, a sanitizer frequently used for sanitation in food processing environments.
How important was obtaining this grant for your professional development?
Obtaining this travel grant gave me the platform to present my research in a space where it could get greater visibility. This visibility allowed me to receive great feedback and thoughtful questions from academic scholars, industry representatives, and fellow graduate students that provided insight into how I can take my research further. I definitely recommend all graduate students take advantage of this opportunity.
What are your hobbies or interests outside of your research or scholarship?
I enjoy swimming, collecting rocks that I find while exploring the beautiful landscape Ithaca has to offer, and gifting my cat new toys.
Why did you choose Cornell to pursue your degree?
During my visitation weekend, a large ice storm prevented our group from actually leaving the Hotel Ithaca and properly getting to tour Cornell's campus. Despite this initial setback, I got to witness first-hand how swiftly members of the field of food science were able to coordinate a back-up plan of holding prospective students' interviews in the hotel's restaurant. This event ended up swaying my decision to pursue my degree at Cornell because I was so impressed with the strong sense of community and supportive collaboration among the faculty and students in the field of food science.