Student Spotlight: Samantha Wesner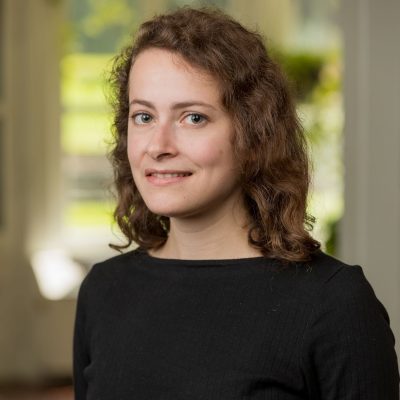 September 7, 2021
Samantha Wesner is a doctoral candidate in history from Dallas, Texas. After attending Harvard University as an undergraduate, she chose to pursue further study at Cornell due to the field of history's reputation as well as the library's resources.
What is your area of research and why is it important?
My current research project focuses on how electrical political metaphors developed in the late eighteenth century through the crucible of revolution. Electrical metaphors (e.g. "an electrifying speech") exploded during the first few months of the Jacobin terror. Electrification became shorthand for revolutionary regeneration. My work looks at the political affordances electricity — with its strong vitalist connotations — brought to revolutionary politics. In turn, I look at how electricity's new political meaning influenced the development of electrical science in the beginning of the nineteenth century.
What are the larger implications of this research?
My research approaches the intersection between science and politics from a new angle. It argues that language borrowed from science can shed light on how historical actors theorized political change. My case study looks at how electricity became a potent political metaphor in the context of late-eighteenth-century Atlantic revolutions. This intersection between scientific and political theories could be investigated across many historical periods. The broader implications are that figurative language, analogies, and metaphors have their own revealing histories, and that a profound connection exists between scientific and political theories of how the world works.
What have you learned about digital approaches to scholarship as a 2021 Summer Digital Humanities Fellow?
The Summer Digital Humanities Fellowship opened my eyes to the many ways in which humanities scholarship can tap into digital research tools. Learning about the projects scholars have developed was thrilling. The program rekindled my enthusiasm about my own project. Learning about digital tools I could use helped me see new possibilities for humanities broadly as well as for my own research. Learning from my fellow cohort members, seeing what projects they were working on, and with what digital tools, also helped broaden my conceptions of what humanities research can look like. A special thanks to Eliza Bettinger, Michelle Paolillo, Melanie Walsh, and Roz Thalken for sharing their extensive knowledge with us this summer.
How will you take what you've learned over the summer and apply it to your research going forward?
Over the course of the program, I learned the basics of topic modeling and saw some examples of its use in humanities projects. I plan to continue to progress in this direction. Since my research project focuses on transformations in language, I hope to use the power of digital analysis in my research methodology. It would be especially useful for expanding my research beyond the eighteenth century.
What are your hobbies or interests outside of your research or scholarship?
Outside of my research, I enjoy jogging, cooking, and when possible, travelling and exploring. I also enjoy the occasional pub quiz, chess game, and dance class.
Why did you choose Cornell to pursue your degree?
I chose to come to Cornell because I was eager to join such an impressive history department, and to make use of excellent library resources. The library in particular has been wonderful throughout my time here, in particular through programs like the Digital Humanities Summer Fellowship. I've been especially grateful for all the support for those like me who have been making extensive use of remote resources for my dissertation while miles from Olin.