Student Spotlight: Sheren Winarto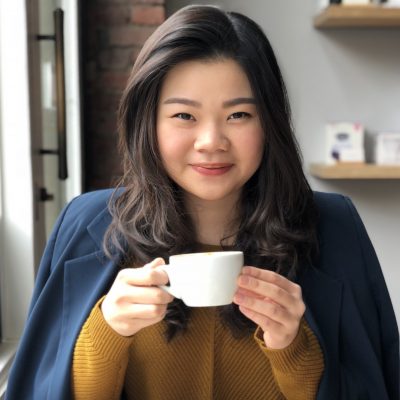 January 28, 2019
Sheren Winarto is a professional student in food science and technology from Surabaya, Indonesia. After earning her bachelor's degree at University of California, Davis, she chose to pursue an M.P.S. at Cornell where she could concentrate on food chemistry and product development.
What is your area of research and why is it important?
My area of research is on increasing the bioavailability of bioactive peptides (protein fragments that have positive impacts on bodily functions and overall health) and B vitamins in rice grains using yeasts and molds.
What inspired you to choose this field of study?
I've always loved food. But it was not until I came across Heston Blumenthal and his gastronomical magic on food that I realized how food is essentially the chemistry, biology, and physics of carbohydrates, proteins, fats, vitamins, minerals, and other components. To be able to further understand and utilize food's wondrous flavors and benefits in food products, I decided to walk the path of food science.
What is the product you intend to work on in the entrepreneurial program?
A fermented rice-based beverage rich in bioactive peptides and B vitamins that is non-alcoholic and can be enjoyed by anyone of any age.
How did you develop this product and why?
This product was developed with the help of Zhong Zhang and Dr. Ali of the Abbaspourrad lab in the Food Science department. Taking inspiration from the fact that aged sake brewers had smooth and healthy skin on their hands because they are always in contact with the rice and yeasts/molds during the making of sake, we transplanted this idea into a beverage that is able to nourish the whole being. This idea was also the inspiration behind the formulation of a Japanese cosmetic brand SKII and their magic ingredient named Pitera.
How do you anticipate benefitting from being part of the first W.E. Cornell cohort?
The W.E. Cornell program helps STEM women, like myself, commercialize their innovations and overcome the challenges of leading a growing technology-based business. Under this program, we have the opportunity to meet experienced mentors and STEM entrepreneurs, like Elisa Miller-Out of Chloe Capital and Anjana Rajan of Callisto, build leadership skills, hone our market fit and customer base with a travel stipend of up to $3,000, launch our innovations, and pitch to investors and community members. Furthermore, it is wonderful and empowering to be a part of a support system consisting of other like-minded women who share similar aspirations and goals. In addition, our program director Andrea Ippolito is a very supportive and brilliant person, and the best person to lead this program for she was also a student at Cornell and knows what it's like being in our shoes.
What are your hobbies or interests outside of your research or scholarship?
Cooking/baking, traveling (most recent trip was to Galapagos Islands!), wines, hosting dinner parties.
Why did you choose Cornell to pursue your degree?
Ezra Cornell best answers why: "I would found an institution where any person can find instruction in any study."
Where else would I be able to hone my knowledge and skills in food chemistry/product development, yet be able to learn about entrepreneurship through the W.E. Cornell program, learn about family businesses through the Smith Family Business Initiative at the Johnson School, and co-lead a team to Bali and Jogjakarta in Indonesia this winter break through the Student Multidisciplinary Applied Research Teams (SMART) Program at the Dyson School? Only at Cornell!