Student Spotlight: Sophia Veltfort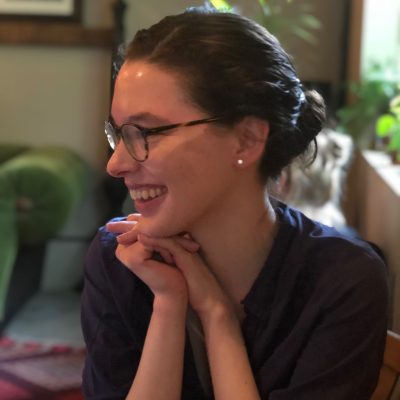 August 29, 2022
Sophia Veltfort, M.F.A. '20, is a doctoral candidate in English language and literature from New York City. She attended Yale University as an undergraduate and now studies the representations of speech and thought in 20th-century fiction.
What is your area of research or scholarship and why is it important?
I am currently completing my first novel and story collection, which emerged from my M.F.A. thesis, and a dissertation on representations of speech and thought in 20th-century fiction. My creative writing considers the competing narratives that structure people's lives—instances of reading and misreading, of negotiating stories. I am interested in the moments when such fictions come into conflict. In both my creative and scholarly work, I often return to a question I encountered in a graduate seminar with Professor Jenny C. Mann: "What kind of thing is a fiction?" How can it work, and what can it do?
What are the larger implications of this research or scholarship?
My dissertation focuses on the nature of the encounter between narrator and character in instances of represented thought and speech, particularly in relation to questions of authority and control in narrative voice. How much agency does either narrator or character exert as a given narration moves in and out of a character's consciousness and voice, and what might be the implications of either party's coercion or passivity? My research considers how representations of speech and thought stage anxieties regarding threats to social order.
You are currently publishing works of both fiction and non-fiction. Can you speak about these experiences?
Over the course of the M.F.A., I wrote short stories, which I workshopped, revised, and submitted to literary journals and contests. Throughout this process, I quickly discovered how lucky I was in my cohort—before, during, and after class, we have been one another's readers. We've alerted one another to submission opportunities. We've believed in and championed one another's work. With them I loved to peruse the shelves of the "Epoch" office, where I encountered many of the literary journals I admire and in whose pages I aspire to have my work someday appear!
What are your hobbies or interests outside of your research or scholarship?
I like to read widely, to see things fiction can do or be or make possible beyond what I've come across before or imagined. I especially love to read the exciting work that friends are doing and witness it transform from draft to draft.
Why did you choose Cornell to pursue your degree?
After studying literature at Oxford and writing fiction at the University of East Anglia on a Marshall Scholarship, I hoped to continue both programs of study in graduate school in the U.S., where my family lives, and Cornell's joint M.F.A./Ph.D. program stood out as an incomparable opportunity to do so. To be able to immerse myself in both creative and scholarly work at once, to work with two special committees, to be part of two brilliant cohorts—this has been a great gift.