Student Spotlight: Stephanie Fuchs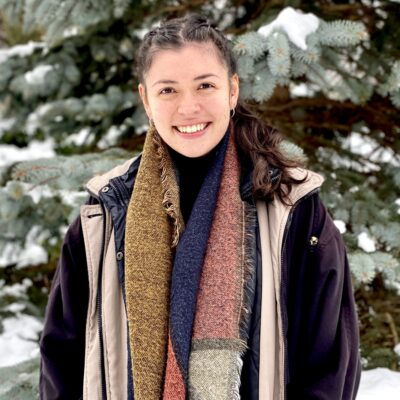 April 10, 2023
Stephanie Fuchs is a doctoral candidate in biological and environmental engineering from Geneva, New York. She earned her bachelor's degree in biological engineering from Cornell University and now is working to design a user-centric insulin delivery device under the guidance of Minglin Ma.
What is your area of research and why is it important?
Although insulin continues to be the most powerful therapeutic option available for diabetic patients, current therapies cannot prevent blood sugar variability, and improper insulin dosing can lead to severe health complications. Not to mention that ideal diabetes management is contingent upon strict compliance to psychologically straining caretaking protocols, imposing an incredible burden of self-care. As such, my research has been focused on designing a user-centric insulin delivery device. The device—made from a tough hydrogel/elastomer material—changes permeability to infuse insulin rapidly upon physiologically relevant varying glucose levels, providing simple, automated, and user-friendly insulin delivery without costly electronic components.
What are the larger implications of this research?
While my research is focused on insulin delivery, the simple method through which the tough hydrogel material is synthesized is open to other stimuli modifications. For example, rather than making the material change permeability based on blood sugar levels, other stimuli-responsive properties such as light, temperature, pH, etc. can be added so that the device responds to those stimuli instead. This research therefore provides a platform to create other tough hydrogel-based (user-friendly) drug delivery devices for translational medical applications.
What does it mean to you to be a Bouchet Scholar?
I believe that being a Bouchet Scholar means to be a member of a community working towards transforming academic spaces to not only make them more accessible, but to ensure that these spaces and their constituents are committed to operating under a diverse and equitable lens. I am incredibly grateful to be invited to join a society whose mission is to advocate for and uplift underserved scholars. I look forward to continuing to learn from, network, and collaborate with other high achieving scholars committed to diversifying STEM in academia.
How do you exemplify the five pillars of the Bouchet Society—character, leadership, advocacy, scholarship, and service?
As a Latina engineer, finding support as a GEM Fellow, a Dean's Scholar, and a NextGen Professor has been instrumental in giving me access to opportunities that facilitated the growth of my engineering identity. Using what I've learned from these incredible communities, I've worked to support disenfranchised high school students as an NSF STEM module developer and a Lumiere research mentor, to support undergraduate and M.Eng. students pursuing biomaterials research, and to foster community outside of the classroom as a Graduate and Spanish Resident Fellow for Alice Cook House. My outreach roles have increased my ability to make social connections, to support students and colleagues through difficulty, and to reach out to others across differences of ideology and identity, qualities I look forward to using to support the mission of the Bouchet Society.
What are your hobbies or interests outside of your research or scholarship?
Outside of lab, you can find me exploring the beautiful Ithaca outdoors, taking care of my plants, trying out new recipes, playing volleyball, and dancing at Ithaca's salsa nights.
Why did you choose Cornell to pursue your degree?
As an undergraduate student at Cornell, I had incredible opportunities to participate in research projects including using tissue culture techniques to eliminate pathogenic viruses and bacteria in grapevines, developing antimicrobial coatings for medical catheters, and being a member of the non-profit organization SOS Aquaponics. These projects captivated my interest to continue pursuing higher education to become an integrative researcher that can bridge gaps between a problem and its solution. I decided to stay at Cornell to pursue my Ph.D. under the advisement of Dr. Ma for his expertise in synthesizing novel biomaterials for therapeutic applications.