Student Spotlight: Tibra Wheeler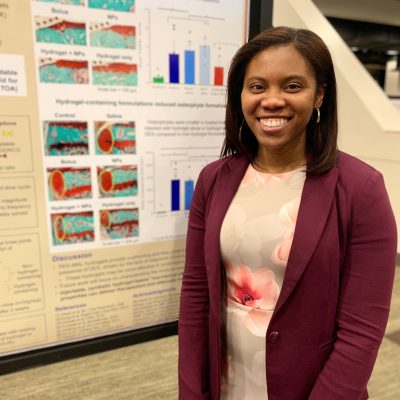 October 11, 2019 – Updated April 12, 2021
Tibra Wheeler is a doctoral student in biomedical engineering from Bluffton, South Carolina. After earning her undergraduate degree from the University of South Carolina, she chose to pursue further study at Cornell due to its supportive and collaborative environment.
What is your area of research and why is it important?
My research combines the three exciting fields of orthopedics, biomaterials, and drug delivery. Specifically, the focus of my research is on osteoarthritis (OA) and understanding the role of the immune response in OA. The goal is to apply this knowledge to create hydrogels, polymer networks that act as drug delivery carriers, to deliver therapeutics to the knee joint to improve OA treatment.
What are the larger implications of this research?
OA is a degenerative joint disease affecting millions of people worldwide. My research will create new knowledge of the role of the immune response associated with inflammation in the knee joint allowing for new targets for therapy. This work will benefit those with OA by creating a new extended OA-treatment for long-term use.
What inspired you to choose this field of study?
My inspiration is deeply rooted in my younger brother's diagnosis of Idiopathic Juvenile Arthritis, osteoporosis, and Crohn's disease. My brother starred on his sports teams until the age of 8 when he began having extreme leg pain which numerous doctors diagnosed as "growing pains." He lived with that diagnosis for years – missing out on sports, getting teased for how he walked, and dealing with the pain. I couldn't understand why my brother's condition took so long to diagnose given the advances in technology; I wanted to help people combat diseases that hinder them from doing things they love.
What is the impact of your fellowship on your research or decision to attend Cornell?
Being awarded the Sloan/Colman Fellowship prior to coming to Cornell played a big part in my decision to attend. This fellowship not only guaranteed funding for three years, but also would also provide me with professional/academic development funds and programming. By receiving this fellowship, I knew I would have the extra support that I would need as a minority student in STEM which was reassuring when making my decision.
What does it mean to you to be a Bouchet scholar?
It's reaffirming for me as a Black Ph.D. student to be recognized in the same likeness of the first African American to receive his doctorate degree from an American university. Dr. Edward Bouchet set the stage for Black doctoral students after him as I hope to do for those who come after me. Being a Bouchet scholar gives me a network of other like-minded individuals that I'm excited to tap into.
How do you exemplify the five pillars of the Bouchet Society – character, leadership, advocacy, scholarship, and service?
Throughout my graduate career, I've been determined to be a leader among minority groups as well as help to advance us as a minority through my research and service demonstrating the intersecting thrusts of the Bouchet Honor Society. My efforts in scholarship led me to be awarded the Cornell Sloan and Colman Diversity Fellowship and the NSF Graduate Research Fellowship. I've mentored minority undergraduate students as the Ryan Scholar Graduate Coordinator in Diversity Programs in Engineering and I've been able to support my fellow graduate community by serving on the executive board of the Black Graduate and Professional Student Association.
What are your hobbies or interests outside of your research or scholarship?
Outside of research, I love napping and binge-watching Netflix shows (always looking for new suggestions). When I'm not sleeping though, I spend my time playing intramural basketball, doing DIY projects, and taking trips to Chick-fil-A. At Cornell, I currently serve as the Vice President of the Black Graduate and Professional Student Association. I am also the Ryan Scholars Graduate Coordinator in the Diversity Programs in Engineering Office and serve as the Graduate Student Representative for the CU Chapter of the National Society of Black Engineers.
Why did you choose Cornell to pursue your degree?
While an Ivy League education was attractive, the people really sold me on Cornell. I was amazed at how inclusive and family-oriented the BME faculty, staff, and students were. During my visit, I was paired with a current student who went above and beyond to make my visit amazing. She told me about resources for minority students and introduced me to staff in various diversity offices. I was also impressed by the caliber of research being conducted. All these things assured me that I would be in a supportive and collaborative environment which is exactly what I wanted and needed.