Student Veterans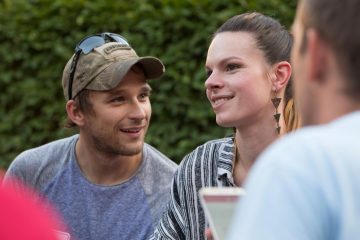 The Graduate School thanks you for your service, leadership, and dedication, which will enrich our community. We hope the below information will help you find the intellectual, academic, social, and financial resources you need to be successful in your graduate experience at Cornell. Please contact Senior Assistant Dean for Graduate Student Life Janna Lamey (janna.lamey@cornell.edu) if you have questions or need information.
Signature Events
The Johnson College of Business sponsors a Veterans Happy Hour in the Big Red Barn.
The Graduate School hosts a Welcome Dinner for graduate and professional school veterans and their families every fall.
Cornell Resources
Cornell's Military Community
Cornell's clearinghouse for information and resources for veterans among our faculty, staff, and students.
Veterans Colleague Network Group (VCNG)
The VCNG is a group of staff, faculty, and affiliates who work toward improving the climate for veterans at Cornell.
Cornell Veterans Listserv
To join the Cornell Veterans email list, email veterans@cornell.edu.
Veteran Counselor
New York State Division of Veterans Affairs provides a counselor who can help veterans at Cornell and in the community with state and federal benefits. Office hours at Cornell are on Wednesdays, 9:30 a.m. – 3:30 p.m., 127a Humphreys Service Building (Door 5), 639 Dryden Rd, Ithaca, NY. Visitor parking permits are available at the Customer Service Center (Door 2); there is accessible parking and service by multiple TCAT bus routes. For appointments, contact John Canestaro (john.canestaro@veterans.ny.gov), 607-255-8719.
Benefits
Cornell Veteran Education Benefits
Full- or part-time Cornell graduate and professional students who are active duty or reserve personnel, veterans, or, in some cases, the child or spouse of a veteran, are eligible for Veteran Education Benefits. Questions about your certification or other matters can be directed to Cornell's VA Representative (vaedben@cornell.edu), 607-255-4232.
Yellow Ribbon Program
Cornell University has entered into an agreement with the U.S. Department of Veterans Affairs (VA) to participate in the Yellow Ribbon Program, a supplement to the Post-9/11 G.I. Bill® education benefit that further defrays the cost of higher education for military veterans. Veterans eligible for VA benefits should contact their Veterans Administration regional office for eligibility. (Please note, if you are currently on active duty status and you are 100% post-9/11 eligible, you will need to be released from active duty no later than August 1 to use the full VA benefit. Once you have obtained your certificate of eligibility letter from the VA, please forward to Cornell's Office of the University Registrar, who will process all forms.) For further information, please visit the VA website.
Cortland County's Veteran Return The FAVOR Program
This program discounts from local merchants, to veterans of record. Any veteran who has their DD214 on file with the Cortland County Clerk's office can receive a Return the FAVOR identification card. If the DD214 is not on file, the Clerk's office staff are more than happy to complete this process.
Veteran Status Designation on an ID
If you are a qualified U.S. military veteran who was honorably discharged, and you have a NYS driver license, learner permit, or non-driver photo ID card, you can have the word "Veteran" printed on the upper left hand of your photo document.
Veterans Day Free Meals, Discounts, Sales, and Deals
Many restaurants offer free meals on or around Veterans Day.
Special Extra Earnings for Military Service
Under certain circumstances, special extra earnings for your military service from 1957 through 2001 can be credited to your record for Social Security purposes. These extra earnings credits may help you qualify for Social Security or increase the amount of your Social Security benefit.
Free Admission to National Parks
Since Veterans Day 2020, Gold Star Families and U.S. military veterans are eligible to receive free access to more than 2,000 federal recreation areas, including national parks, wildlife refuges, and forests. The free access program is a way to thank America's veterans, Gold Star Families, and current military and their dependents for their support of our country and to encourage them to explore recreational opportunities on their public lands and waters.
Additional Resources
Team RWB Ithaca and Headstrong Project
Team RWB Ithaca is thrilled to be able to partner with another amazing organization in our local community, Headstrong Project. Headquartered in NYC, Headstrong is expanding to offer services all over the country, including Ithaca. Headstrong is a cost-free, bureaucracy-free, and stigma-free treatment for the hidden wounds of war.
Cornell Veterans Memorials
Cornellians who have served in times of war are honored by a number of memorials across campus. We have attempted to gather information about each of them here.
Apply for a Discharge Upgrade
The Department of Defense, through a joint initiative with the U.S. Department of Veterans Affairs, has launched a new web-based tool that provides customized guidance to veterans who desire to upgrade or change the conditions of their military discharge.