Doctoral Alumna Selected for Inaugural SUNY Chancellor Distinguished Ph.D. Graduate Dissertation Award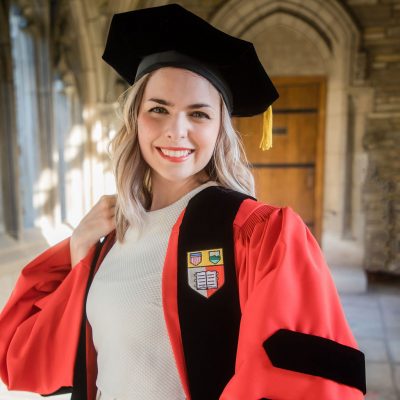 November 8, 2021
By Katya Hrichak
Kaylin Ratner, Ph.D. '20, has been selected as a finalist for the inaugural SUNY Chancellor Distinguished Ph.D. Graduate Dissertation Awards.
Created to recognize outstanding doctoral candidates in the SUNY system, the awards were granted to one first place winner, four finalists, and three honorable mentions.
Ratner, who received her doctoral degree in human development, was selected for her dissertation, titled, "Derailment and Depression Across College: Trajectories of Perceived Identity Change, Adjustment, and Moderators of their Association."
"I study how teens and young adults think about and reconcile their senses of identity, purpose, and meaning in life. I'm particularly interested in how these things interface with mental health," Ratner said. "Establishing and maintaining our senses of identity, purpose, and meaning in life are critical developmental tasks."
Finalists were awarded $1,000 to support engagement in professional development opportunities. For Ratner, whose professional development experiences have thus far been contained to North America, the funds will help offset the cost of attending an international conference.
"Increasing the breadth of my experiences will not only inform my research in new and exciting ways, but it will also enable me to become a better-rounded person. I can't help but think that will allow me to better service my students in the future," she said. "To even be selected by the Graduate School to be Cornell's nominee for the SUNY Chancellor's Dissertation Award continues to exceed anything I could have imagined for myself."
The State University of New York's doctoral-granting campuses eligible for this award include University at Albany, Binghamton University, University at Buffalo, Downstate Health Sciences University, SUNY ESF, SUNY College of Optometry, SUNY Polytechnic Institute, Stony Brook University, and Upstate Medical, as well as statutory campuses within Alfred University and Cornell University.
This story is also available on the Cornell Chronicle website.