Alumna Spotlight: Kaylin Ratner, Ph.D. '20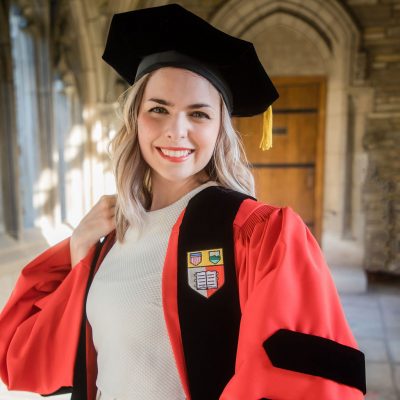 November 8, 2021
Kaylin Ratner, Ph.D. '20, is an alumna of the human development program at Cornell, from which she earned a Ph.D. in development psychology. She is now a postdoctoral associate in the department of psychology at Cornell University.
What was your research focus at Cornell?
At Cornell, I studied how teens and young adults think about and reconcile their senses of identity, purpose, and meaning in life. I'm particularly interested in how these things interface with mental health. I not only study how identity, purpose, and meaning can promote thriving and resilience, but I also study how the experience of certain psychiatric symptoms can change how you think about yourself, where you are going, and what it means to be alive. To date, my work has focused on a range of issues, including depression, subclinical autistic traits, and risk-taking behavior.
What is the broader implication of this research and how is it making an impact?
Establishing and maintaining our senses of identity, purpose, and meaning in life are critical developmental tasks. Individuals who struggle with the reconciliation of these senses tend to be worse-off in terms of many outcomes people care about, including happiness, health, and even net worth! As such, understanding how to support people as they answer questions like "Who am I?" and "Why am I here?"—and understanding what happens when these processes go awry—stands to improve the lives of teens and young adults in the future. Ultimately, I would love to move my work toward scalable interventions.
Tell us about your current position and what you find rewarding about it.
I'm currently partnered with a fantastic non-profit organization based in New York City called, GripTape. GripTape aims to imbue learning with agency. Teens and young adults from across the country apply to this program with a topic they are passionate about. If selected, GripTape gives them $500, a non-expert adult mentor (called a "Champion"), and launches the participant on a ~10-week self-driven "Learning Challenge" about the identified topic. The teens that participate in this program have rich stories about their experiences in the program. Between these anecdotes and its support of psychological (and developmentally salient!) needs like autonomy, identifying the parts of GripTape that make it so great could have implications for youth-serving programs across the country.
What does it mean to you to have been selected as a finalist for the SUNY Chancellor's Dissertation Award?
Looking back, I wouldn't describe myself as having been a good student. I never failed classes, but the problem was that things came easy to me and I always got A's and B's without trying. Most people think this is a good problem to have, but it led me to being kind of disengaged by the end of high school. I did not do super well on the SAT/ACT and graduated with only the vaguest sense of what I wanted to do. I ended up staying home and getting an associate's degree before transferring to a four-year university. It was in those four years that I fell in love with academics though. My classes were smaller and my professors were passionate: it invigorated me. When I eventually found myself ready to apply for Ph.D. programs, I still only applied to Cornell on a "you miss every shot you don't take" whim. I had no expectations. When I got into the doctoral program here, I was flabbergasted. People from my area did not go to the Ivy League. I never—in my wildest dreams—imagined I'd be able to call this place my alma mater. To even be selected by the Graduate School to be Cornell's nominee for the SUNY Chancellor's Dissertation Award continues to exceed anything I could have imagined for myself. Now, being selected as a finalist for this award…I don't have the words. I'm not sure my teenage-self would be able to believe the person she has become. I am so humbled.
What will this award allow you to do that you may not have otherwise?
Being able to use the award for professional development opportunities is invaluable. When I learned that I won, I started thinking about all of the awesome conferences I would be able to go to once the pandemic subsides! For example, apart from Canada, I have never been to an international conference. The award won't cover all my costs for international travel, but it does alleviate a significant part of the burden. The pandemic has helped me reprioritize my values, and I would love to be able to keep pushing past my comfort zone in the next stage of my career. Increasing the breadth of my experiences will not only inform my research in new and exciting ways, but it will also enable me to become a better-rounded person. I can't help but think that will allow me to better service my students in the future.
If you could go back in time to the beginning of your graduate career, what advice would you give yourself?
Although developing your concentration in graduate school is very important, one thing I would encourage my first-year self to do is explore more. This is consistent with what I said above about wanting to become more well-rounded. I have friends now who are teaching, consulting, and even a few applying to student internships in industry. I love the career path I'm on, but being a student is still a time for testing the waters. Take advantage of it and don't be afraid! Having an idea of where you want to be by the end is good and you should have that. But don't become so pigeonholed that you say no to opportunities that are only slight deviations from your plan. You'll get to the end eventually and, who knows, you might find something you didn't imagine would be possible for you along the way.