Over 50 Students Recognized at Fourth Annual Dean's Scholars Pinning Ceremony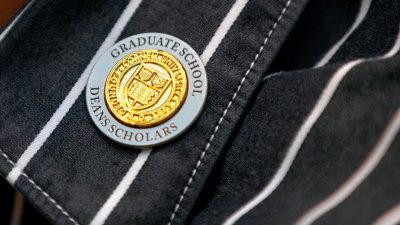 By Katya Hrichak
In a typical year, Dean's Scholars gather for an in-person pinning ceremony. New scholars line up, side-by-side, and wait for continuing scholars to adorn them with the pin presented to all Dean's Scholars.
This year, the process worked a little differently. Students received their ceremonial pins by mail and, on the evening of October 21, joined a Zoom meeting where they were formally recognized as Dean's Scholars as they pinned themselves.
The Dean's Scholars pin features a round, gold center containing the Cornell seal to represent the scholars' achievement, surrounded by an outer ring of silver, representing their persistence.
The ceremony, led by Associate Dean for Inclusion and Student Engagement Sara Xayarath Hernández, recognizes recipients of the Dean's Excellence Fellowship, Dean's McNair Fellowship, Dean's Mellon Mays Fellowship, SUNY Graduate Diversity Fellowship, McNair SUNY Graduate Diversity Fellowship, Mellon Mays SUNY Graduate Diversity Fellowship, Provost Diversity Fellowship, Cornell Colman Fellowship, Cornell Sloan Fellowship, Cornell GEM Ph.D. Fellowship, and Cornell IMSD Program.
"We are so proud to recognize this year's Dean's Scholars," said Kathryn J. Boor, dean of the Graduate School and vice provost for graduate education. "Each of these students brings with them academic, professional, and personal achievements and great potential. I look forward to witnessing their future successes in each of these areas and contributions to the broader Cornell community."
For many students, like Sofia Franco, a doctoral student in government, becoming a Dean's Scholar is the culmination of her life's experiences, both the failures and accomplishments that have brought her to Cornell, where she looks forward to making an impact with her research on race and inequality in the U.S.
During the ceremony, entomology doctoral student and continuing Dean's Scholar Drea Darby spoke about how this community is especially equipped to make an impact, both in and outside their scholarship.
"Being a member of this community has empowered me to not only continue fighting to earn this Ph.D., but also to fight systemic racism and injustice and make academia a more diverse, equitable, and inclusive environment," she said.
This year's Dean's Scholars join a diverse community where they have the opportunity to establish and maintain connections across graduate fields by engaging in professional and community development events sponsored or co-sponsored by the Graduate School Office of Inclusion and Student Engagement.
Doctoral students Jonathan Albo, biomedical engineering, and Katie Randolph, biological and environmental engineering, find these opportunities to connect with others across disciplines especially important.
"To be recognized as a Dean's Scholar was essentially my first real welcome to the Cornell community and showed me that I belong and deserve to be here," said Albo, who has already begun forming meaningful relationships with and learning from students outside of his field.
"We are immediately immersed in community and support through several events, which, in the current age of quarantine, made all the difference for me," said Randolph. "By being a Dean's Scholar at Cornell, I feel like I have support when I need it and am honored for who I am and what I bring to the table, always."
Continuing Dean's Scholar and horticulture doctoral student Josh Garcia echoed Randolph, telling the new scholars: "Being a Dean's Scholar has helped me feel connected and supported during my time here at Cornell," he said. "Perhaps most importantly, the Dean's Scholar community has taught me that students from marginalized communities all have what it takes, not only to get into and finish grad school, but to be successful and to thrive."
Related: