'Pivotal to Your Success': Keynote Addresses Mentorship at Summer Success Symposium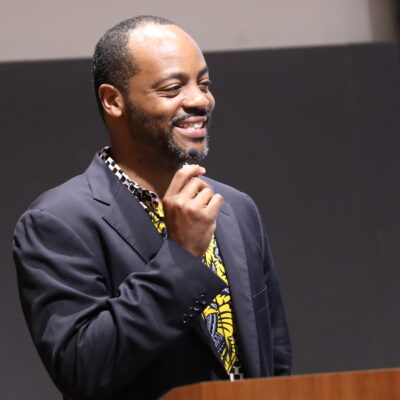 August 28, 2023
By Katya Hrichak
Having a good mentor is essential to success in graduate school, and it's important to find the right fit for you, said alumnus Coalton Bennett, Ph.D. '10, who delivered the keynote address at the ninth annual Summer Success Symposium, held on August 15 in the Biotechnology Building. "Not only can good mentors guide mentees through their degree programs, but mentors can provide guidance that shapes their mentees' future careers as well," said Bennett.
For Bennett, the process of getting to where he is now—an electrical and computer engineering alumnus and patent agent for McCarter & Fish—started with the decision to switch advisors early in graduate school. He shared his story and words of wisdom with new and continuing graduate students in the event's alumni keynote session, titled, "Mentorship: Why it is Important Now and How it Sets the Course for a Successful Future."
"Your advisor really should be your mentor. It doesn't always work that way, but they play a pivotal role in developing us professionally, which is what everybody here wants," he said. "Mentors are pivotal to your success."
Bennett began his graduate school career at Cornell with an advisor he had selected based on aligned research interests, but quickly realized that the fit was not right for him—an experience several additional members of his group shared. Instead of pushing through and completing his program under an advisor who was not serving his mentoring needs, Bennett and several others in the group decided to switch advisors.
"I ended up leaving [the lab group], and it was the best decision for me," he said.
Bennett advised the audience to use the resources available to them to identify a mentor who can both set them up for future success and make the graduate school journey a positive experience, even if it means making a change a couple of years into the program.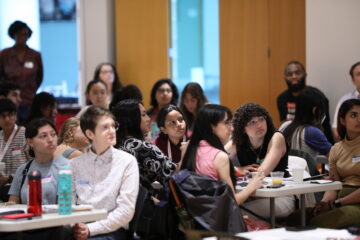 "Having the right fit is actually what matters the most for a variety of reasons. Yes, we do want to finish our Ph.D.s, but beyond that, you should enjoy the time that you've spent while working on your Ph.D.," he said. "You should be able to explore different avenues. If you are working on something, a problem, and you have an interesting solution, you should be able to explore it. That's what actually allows the field to be pushed forward, for you to add to the body of knowledge."
He also encouraged students to listen to the suggestions that they are given by their mentors, noting that these suggestions can lead to life-changing discoveries, and to have open conversations about expectations in order to achieve their goals, even if it means stepping out of their comfort zones.
"If [your advisors] don't know what your expectations are and what you're looking to accomplish, they won't be able to help you," Bennett said. "You have to trust people. You have to believe that they have your best interests at heart when you talk to them."
This year's Summer Success Symposium also featured an opening plenary session, "Navigating Mentoring Relationships: Challenges, Opportunities, and Considerations," with Steve Desir, Ph.D., director of professional learning and organizational development for the Consortium for Equity in Graduate Education and assistant professor of research for the Rossier School of Education at the University of Southern California, as well as the student panel discussion, "Mastering Your Transition Into and Progression Through Graduate School."
The focus on mentoring in graduate education at this year's Summer Success Symposium was inspired by the recent launch of the Faculty Advancing Inclusive Mentoring (FAIM) Resource Center, a collaboration of the Graduate School, Provost Office of Faculty Development and Diversity, and TRUST Alliance.
This event was sponsored by the Graduate School Office of Inclusion and Student Engagement, Diversity Programs in Engineering, and the Cornell Chapter of the Bouchet Graduate Honor Society and was modeled in part after PROMISE: Maryland's AGEP Summer Success Institute. The launch and institutionalization of the Summer Success Symposium benefited from support from the 2016 ETS/CGS Award for Innovation in Promoting Success in Graduate Education and NSF under Award No. 1647094, CIRTL AGEP Transformation Alliance from 2016-2022.