Programs Offer Insight into Graduate School Admissions, Application Processes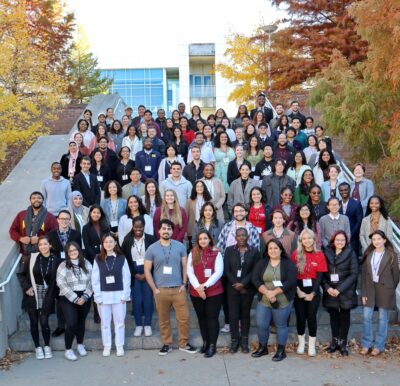 August 2, 2023
By Katya Hrichak
Applying to graduate school can be overwhelming. Navigating the academic statement of purpose, personal statement, letters of recommendation, and the application itself can seem daunting, and prospective students may not know where to begin or where to turn with questions.
To provide guidance to prospective students on the next step in their academic journeys, the Graduate School Office of Access and Recruitment created the Consider Cornell programming series. This series, consisting of Consider Cornell: Explore and Consider Cornell: Experience, explains the intricacies of the graduate school application and admission processes. The programs are open to anyone interested in learning more about graduate education and are specifically designed to advance the Graduate School's commitment to access, equity, and inclusion and to enhance the diversity of Cornell's graduate student population.
On July 14, the virtual Consider Cornell: Explore program engaged nearly 100 prospective students in a full day of programming, including an interdisciplinary faculty admissions panel that provided insight into the graduate school admissions and application processes and a panel with current Cornell graduate students who shared their experiences and personal reflections on campus community and graduate student life. Central to the program was a graduate application workshop in which various components of the Graduate School application were discussed in detail.
"We are very happy with the attendance and level of participation we had," said Anitra Douglas-McCarthy, assistant dean for access and recruitment. "Participants were engaged, asked excellent questions, and gave great feedback on how informative the event was. We love to hear that Consider Cornell programs are helping give prospective students confidence in applying to graduate school."
While the Explore program is for anyone interested in attending graduate school, the upcoming Consider Cornell: Experience program that will take place October 13-14 is intended for U.S.-based prospective students who plan to apply to doctoral programs in the upcoming application cycle. The two-day, all-expenses-paid program is an immersive, discipline-specific, on-campus opportunity that provides information on the graduate application process and application components, but also facilitates connections with Cornell faculty, graduate students, and program leadership.
"These programs are specifically designed to increase access to graduate education by being explicit and intentional in the way we share information on the application and admission processes," said Douglas-McCarthy. "Through these programs, we candidly give attendees a variety of important perspectives, including those of our faculty and current graduate students. Our hope is that participants in the Consider Cornell programs will make informed decisions about applying to graduate programs and will do so with confidence."
The deadline for Consider Cornell: Experience applications is August 4.
Learn more about Consider Cornell: Explore, Consider Cornell: Experience, and the history of the Consider Cornell programs.