Six Graduate Students Receive Wu Scholarships
June 7, 2021
By Katya Hrichak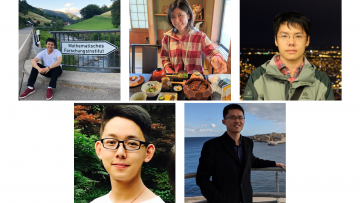 Six graduate students were awarded 2021 Hsien and Daisy Yen Wu Scholarships. These awards provide recipients with funds to help with any aspect of doctoral study, from research expenses to personal living expenses.
This year's recipients are: Mike Bing, statistics; Lijun Ding, operations research and information engineering; Reika Tei, chemistry and chemical biology; Anran Wang, history; Hao Zhou, microbiology; and Lingzi Zhuang, linguistics.
The Wu Scholarship was established by Daisy Yen Wu in memory of Hsien Wu, parents of the late Cornell professor Ray Wu, to recognize graduate students for their academic ability, performance, character, and financial need. Students become eligible to receive the award after completing a minimum of three semesters of study in a doctoral program with preference given to students beyond their second year.
"I am greatly honored to receive the Hsien and Daisy Yen Wu Scholarship," said Tei, who studies membrane lipids' regulation of cellular processes for new therapeutic solutions to diseases such as cancer. "The scholarship further motivates me to pursue my career as an academic researcher."
The scholarship enabled Tei to attend a workshop on basics and introductory applications of deep learning. With the knowledge gained from the workshop, she is now able to automate more complicated tasks and improve her efficiency in data analysis.
For Zhuang, the scholarship will allow the development of novel language teaching resources for Tibetan in the form of a community-based project.
"It is an honor to have my research recognized as valuable in this special way—especially since a lot of my work focuses on less studied/represented languages of China and East Asia," he said. "Practically, the award certainly helps cover some of the costs associated with working with native speakers halfway across the world."
The Wu Scholarship is one of several that the Graduate School administers each year for continuing students. Other awards include Provost Diversity Fellowships for Advanced Doctoral Students and the Africa Fund.
"This year's recipients have demonstrated academic excellence and dedication to their research and scholarship," said Jason Kahabka, associate dean for administration. "The Wu Scholarship is just one way we support student success."