Symposium to Address Self-advocacy, Communication, and Writing
May 16, 2022
By Katya Hrichak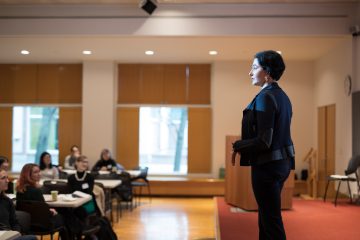 Interested in learning how to advocate for yourself more effectively, communicate more confidently, or be more resilient in your writing? Let the speakers at the Graduate School's Summer 2022 Pathways to Success (P2S) Virtual Symposium help you develop and refine these critical skills during the virtual June 8 event.
Each year, the P2S Symposium brings experts together to provide a professional development opportunity for graduate and professional students and postdoctoral scholars. This year's symposium will feature Dr. Sharon Milgram, director of intramural training and education for the National Institutes of Health; Eliza VanCort, a best-selling author, speaker, thought leader, and teacher; and Dr. Lisa Russell-Pinson, assistant teaching professor of writing at the Center for Graduate Life at the University of North Carolina at Charlotte's Graduate School.
"We are very excited about this year's speaker lineup," said Sara Xayarath Hernández, associate dean for inclusion and student engagement. "It is important that our graduate students and postdocs develop skills in communicating their research, prioritizing their well-being while accomplishing writing goals, and practicing self-advocacy along the way. Our speakers' expertise will prepare individuals in attendance to thrive in their academic and professional careers."
Participants may register to attend individual sessions or all sessions. More information is available on the P2S Symposium webpage.
Pathways to Success is the Graduate School's framework for helping graduate and professional students and postdoctoral scholars be successful in their research and scholarship and establish the necessary skills for their future careers.
The P2S Symposium is sponsored by the Graduate School, the English Language Support Office, and the Office of Postdoctoral Studies. Participating Graduate School offices include Inclusion and Student Engagement, Academic and Student Affairs, Graduate Student Life, Careers Beyond Academia, and Future Faculty and Academic Careers.