Building Allyship Series
The Building Allyship Series is a collaboration of the Graduate and Professional Student Diversity Council and the Graduate School Office of Inclusion and Student Engagement (OISE).
This series provides an opportunity for members of the Cornell community to gain insights into the depth and breadth of identities and experiences represented within our graduate community and engage in productive dialogue focused on fostering a greater understanding of the many aspects of critical allyship and its practice.
Each event seeks to create a safe space for critical dialogue where we can bridge gaps in knowledge, learn from each other, and create understanding without fear of judgment.
Read this article, Impact vs. Intent: Becoming Critical Allies Through Workshop Series, to learn more about this series.

Virtual Building Allyship Series
Spring 2022

land

Acknowledgements as Metaphor: Allyship and Land Back Movements
April 28, 2022 | 12:00 to 1:30 p.m. ET
Register for the April session
land acknowledgements are frequently given at official Cornell events, but what do they represent? During this session, we will dive into the performative aspects of land acknowledgements and how land-grant universities such as Cornell have a responsibility to move beyond these statements for Indigenous communities. Shifting the focus from acknowledgment to action, speakers will discuss ways students, non-Indigenous communities, and institutions can localize allyship. Such actions range from citing Indigenous thinkers, to supporting local Gayogo̱hó꞉nǫ' sovereignty and centering Indigenous relationships with the Land. We hope to amplify the voices of Indigenous students at Cornell, the members of the Gayogo̱hó꞉nǫ', and the larger Haudenosaunee confederacy, as well as suggest actions to support Indigenous communities.
*The capitalization of land vs Land is intentional in both the title and description. This is following Dr. Sandra Styres and Dr. Dawn Zinga's syntactical practice in their writing "The community-first Land-centred theoretical framework: bringing a 'good mind' to Indigenous education research?" as well as Dr. Max Liboiron's "Pollution is Colonialism." The capitalization of Land acknowledges "the unique entity that is the combined living spirit of plants, animals, air, water, humans, histories, and events recognized by many Indigenous communities." Whereas when land is not capitalized, we refer "to the concept from a colonial worldview whereby landscapes are common, universal, and everywhere" (Liboiron 2021).
This Building Allyship Series session is collaboratively hosted by the Graduate and Professional Student Diversity Council, Graduate School Office of Inclusion and Student Engagement, and the Indigenous Graduate Student Association.
Resources
Thanksgiving Address: Sachem Sam George (Gayogo̱hó꞉nǫ', Bear Clan)
Featured Speaker: Dr. Jolene Rickard, (Tuscarora, Turtle Clan) Associate Professor, Departments of History of Art and Art, Cornell University
About the Speaker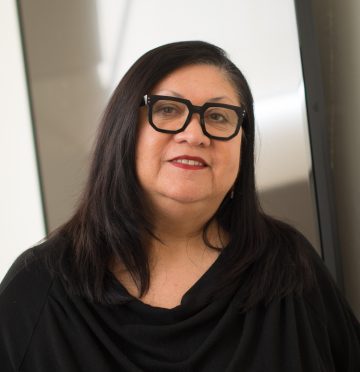 Dr. Jolene Rickard is a visual historian, artist and curator interested in the intersection of Indigenous knowledge and contemporary art, materiality, and ecocriticism with an emphasis on Hodinöhsö:ni aesthetics. Recent exhibitions include the Minneapolis Institute of Arts national exhibition, Hearts of Our People: Native Women Artists, 2019-2021, Crystal Bridges Museum of Art, Art For a New Understanding: Native Voices, 1950's to Now, 2018-2020. She co-curated two of the four inaugural exhibitions of the Smithsonian's National Museum of the American Indian (2004-2014). Jolene is on the editorial board of American Art, a 2020 Fulbright Research Scholar, an Associate Professor in the departments of History of Art and Art, and the former Director of the American Indian and Indigenous Studies Program 2008-2020 (AIISP) at Cornell University, Ithaca, NY. Jolene is from the Tuscarora Nation (Turtle Clan), Hodinöhsö:ni Confederacy.
Moderator: Jenine Hillaire (Coastal Salish, Lummi Nation), PhD student, Fiber Science and Apparel Design, President of the Indigenous Graduate Student Association, Cornell University
Jenine Hillaire (Lhaq'te'mish, Lummi Nation) is a Ph.D. student in Fiber Science and Apparel Design, and American Indian and Indigenous Studies. She is also the president of the Indigenous Grad Student Association and part of a grad student group curating an exhibit for Cornell's 2022 Biennial titled Material Resistance: Social Justice and Empowerment Narratives Told Through Cloth. In 2021, she helped organize Bay Area American Indian Two-Spirits' first virtual pow wow. Her study focus is on Indigenous identity and resilience through cloth and self-expression through an Indigenous Feminist and Two-Spirit critical methodology. She is Coast Salish from Lummi Nation in Washington State in the north islands of the Puget Sound. She currently teaches graphics online in a state college program designed for Indigenous students.
Discussants: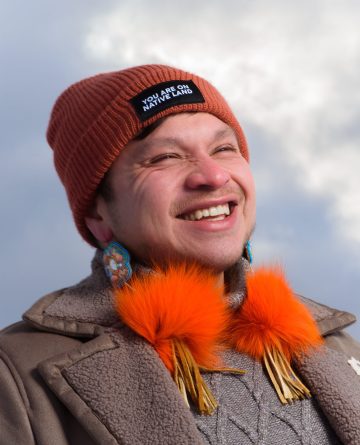 Abraham Francis (Mohawk Akwesasne, Deer Clan), CALS '14, MS '19, is deer clan from Akwesasne and the current Program Manager for the Mohawk Council of Akwesasne – Environment Program. He earned a BSc in Microbiology and MSc in Natural Resources from Cornell University. Previous positions held for the Mohawk Council of Akwesasne included Community Health Representative, Prevention/Intervention Coordinator, Environmental Project Coordinator, and Environmental Science Officer. His research interests are at the intersection of environmental studies, Indigenous methodologies, community engagement, education, health, social services, law, and cultural foundations as a means for empowerment and healing within Indigenous communities. His current work as Program Manager is where he can address and promote community concerns regarding the environment and conservation from a culturally grounded place to ensure that future generations have access to clean land and water.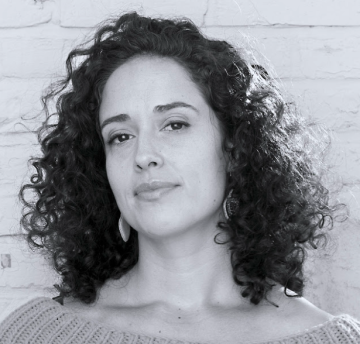 Dr. Meredith Alberta Palmer, (Tuscarora, Six Nations) is a Presidential Postdoc in the Department of Science & Technology Studies, and the American Indian and Indigenous Studies Program at Cornell University. As a critical Indigenous Geographer, she studies how technologies, imperial occupation, and subjectivities are co-constituted. She received her MPH and her PhD in Geography from UC Berkeley.
Closing Thanksgiving Address: Sachem Sam George (Gayogo̱hó꞉nǫ', Bear Clan)
Dismantling the Exclusivity of Academia Through Critical Allyship within our Neurodiverse Community
March 15, 2022 | 12:00 to 1:30 p.m. ET
This event educated attendees about what neurodiversity is and the way that negative beliefs about neurodiversity impact our community. We explored the myths around neurodiversity within the context of academia and research environments. Additionally, we discussed ways to help mitigate the stigmatization of those in our communities whom we disable by misunderstanding neurodivergence.
Panelists discussed barriers that neurodivergent people face, and accommodations or structural changes that dissolve these barriers. They also discussed how aspiring allies can best and continuously support all members of our neurodiverse community regardless of bodymind. Recognition of neurodiversity brings value to Cornell University, and through critical allyship, we can all help our community thrive by embracing neurodiversity in all of its forms.
This Building Allyship Series session is collaboratively hosted by the Graduate and Professional Student Diversity Council, Graduate School Office of Inclusion and Student Engagement and Disability+, the Graduate and Professional Students with Disabilities Association.
Resources

Featured Speaker: Dr. Andrew Dell'Antonio, Professor, Butler School of Music, UT Austin
About the Speaker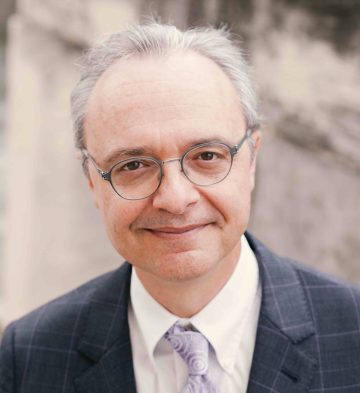 Andrew Dell'Antonio is Distinguished Teaching Professor in the musicology/ethnomusicology division of the Butler School of Music in the College of Fine Arts at the University of Texas at Austin. He is co-editor with William Cheng of the series Music and Social Justice (University of Michigan Press). His collected edition "Beyond Structural Listening? Postmodern Modes of Hearing" and "Monograph Listening as Spiritual Practice in Early Modern Italy" are both published by University of California Press. He blogs at adellantonio.com and The Avid Listener, and is co-author of "The Enjoyment of Music," both from W. W. Norton. ​He has recently turned his focus to universal design for learning (UDL) and related approaches to anti-racism, anti-ableism, and intersectional equity/inclusion in higher education music. His commitment to UDL comes partly from his personal experience of neurodivergence.
Moderator: Katie Haviland, Ph.D. Student, Natural Resources and the Environment
Panelists:
Fall 2021
The Marginalization and Racialization of International Scholar Identities within the U.S. Context
November 18, 2021 | 12:00 to 1:30 p.m. ET
This session included an invited talk and moderated panel discussion focused on developing an understanding of how international scholar identities can be racialized and marginalized within the U.S. context and how this can impact their experiences within the academy. The panelists shared what contributes to or hinders their sense of belonging and the strategies aspiring allies can employ to support international scholars who may be experiencing xenophobia alongside new aspects of marginalization. This discussion also explored what individual and collective actions we can take to validate the experiences of international scholars and create more inclusive learning, research, and social environments.
This session was hosted in collaboration with Graduate and Professional Students International (GSPI), an organization dedicated to building a community for international graduate and professional students through social events, networking opportunities, an online information hub, and mentoring. GSPI seeks to demystify many of the unwritten rules and norms of graduate school and to be a source of support to international scholars as they transition into and progress through their graduate studies at Cornell. The organization is especially concerned about helping to support international scholars who may be studying in the United States for the first time.
Resources
Featured Speaker: Gustavo A. Flores-Macías, associate vice provost for international affairs and associate professor of government
About the Speaker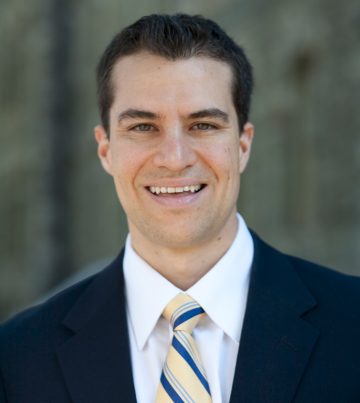 Gustavo A. Flores-Macías is associate vice provost for international affairs and associate professor of government at Cornell University. He is the author of "After Neoliberalism: The Left and Economic Reforms in Latin America" (Oxford University Press, 2012), which received the Latin American Studies Association Tomassini Book Award in 2015. He is also the editor of "The Political Economy of Taxation in Latin America" (Cambridge University Press, 2019). He holds a Ph.D. in government from Georgetown University and an M.P.P. from Duke University, where he was a Fulbright Scholar. Previously he served as director of public affairs at Mexico's Federal Consumer Protection Agency and more recently as director of Cornell's Latin American Studies Program. He is a faculty fellow at the Atkinson Center for a Sustainable Future and a recipient of Princeton University's Democracy and Development Fellowship. His commentary has been featured in the New York Times, Washington Post, LA Times, The Hill, CNBC, Fox News, among others.
Moderator: Natalia Lopez Barbosa, Ph.D. candidate, chemical engineering, and president of Graduate & Professional Students International
Panelists:
Understanding and Combating Insidious Forms of Anti-Asian Racism

October 4, 2021 | 12:00 to 1:30 p.m. ET
This session included an invited talk and moderated panel discussion focused on developing an understanding of anti-Asian racism and the many insidious forms in which it can manifest. It also centered on sharing strategies on how those seeking to serve as allies can actively help combat anti-Asian racism including overt and covert forms of violence.
This session was hosted in collaboration with the Society for Asian American Graduate Affairs (SAAGA), a graduate student organization dedicated to advocating for graduate students who identify as members and/or are allies of the Asian and/or Asian American community. SAAGA works to create a network of support to better address academic, career, and social justice issues related to the Asian and Asian American graduate student population. SAAGA strives to create a safe space for its members to socialize with others, share academic and professional advice, and discuss issues of race, ethnicity, politics, and culture as they pertain to Asians/Asian Americans. Activities include invited lectures, discussions, film screenings, collaborations with other similar groups on campus, networking events, and more.
Resources
View a recording and access "Key Takeaways" from this session.
Featured Speaker and Moderator: Juhwan Seo, Ph.D. candidate, sociology
About the Speaker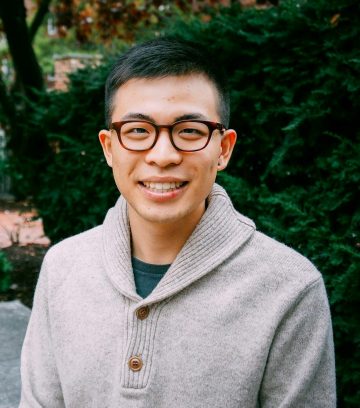 Juhwan Seo is a Ph.D. candidate in sociology and a graduate resident fellow in Hans Bethe House at Cornell University, where he is affiliated with the Asian American studies, Latinx studies, and feminist, gender, and sexuality studies programs. He studies how U.S. immigration policy shapes family formation of queer immigrants and how ethnic businesses employ low-wage immigrant workers. Previously, Juhwan organized with the New York Immigration Coalition and co-founded the Harvard Ethnic Studies Coalition. His research has been funded by the National Science Foundation, National Institute of Justice, and the Social Science Research Council.
At Cornell, Juhwan plays with 14Strings!, a Filipino guitar ensemble (rondalla) and mentors undergraduate students on pursuing graduate studies with Graduate Students Mentoring Undergraduates. He previously worked for the Mario Einaudi Center for International Studies. Before coming to Cornell, Juhwan worked for an immigration advocacy nonprofit, where he conducted education policy research and organized immigrant communities. At Harvard, he led the movement for ethnic studies, managed a chamber orchestra, and taught health education at high schools.
Panelists:
Clement Chow, Cornell Alumnus, Professor of Genetics, University of Utah
Elvisha Dhamala, PhD Alumnus, Postdoc, Yale University
Jason C. Marvin, PhD Candidate, Biomedical Engineering
Kavya Krishnan, PhD Candidate, Soil & Crop Sciences
Vinh P. Pham, PhD Candidate, Comparative Literature
---
Accommodations
We strive to make our events accessible to all community members. Individuals who would like to request accessibility accommodations should contact grad_assoc_dean@cornell.edu. We ask that requests be made at least one week in advance to help ensure they can be met.
2020-21 Building Allyship Sessions
2019-20 Building Allyship Sessions