My Voice, My Story
Understanding the Untold Lived Experiences of Graduate & Professional Students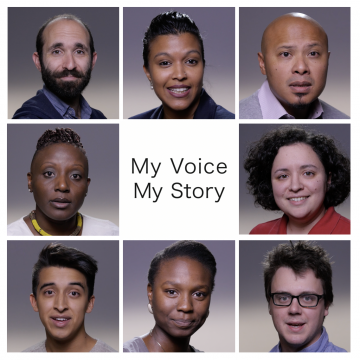 My Voice, My Story sessions pair video monologues – constructed from experiences of graduate students – with facilitated discussions. The primary objectives of My Voice, My Story are to utilize the power of narrative to achieve greater understanding of the lived experiences of graduate and professional students, share stories that frequently go untold, and develop strategies on how to create more inclusive and supportive research and learning environments.
Listening to the stories of the characters portrayed in the My Voice, My Story monologues provides participants with opportunities for learning through:
Listening for understanding, especially when we think we are different from one another.
Understanding intent versus impact and the possible implications when the two don't align.
Developing awareness and understanding of experiences of exclusion and inclusion in the learning and research environment.
Establishing respect for our mutual similarities and differences.
Experiencing empathy for and identification with all of the characters portrayed in the video monologues.
Seeing the commonality of our human experience that flows underneath all the stories.
Recognizing instances of implicit bias.
Contributing to the development of strategies on how one can contribute to improving the organizational climate for all its members.
How long is a My Voice, My Story Session?
120 minutes: 20 minutes for introductions, opening, and content delivery; 20 minutes for videos; 70 minutes for facilitated dialogue; 10 minutes for closing
Focus Audiences
Graduate and professional students
Faculty
Staff who work with graduate and professional students
Strategies for Successful My Voice, My Story (MVMS) Sessions
Limit the audience size to no more than 32 participants, and no less than 12 participants.
Work in advance with the MVMS facilitation team to schedule and plan the delivery of a MVMS session.
Utilize a room with a set up that will help support easy engagement in large and small group discussions; avoid rooms with fixed sitting such as auditoriums.
Consider how MVMS sessions could become part of the regular cycle of professional development programming for specific audiences within your graduate field, department, or college.
Explore with the facilitation team how individual monologues from MVMS can be used in place of case studies for other programs such as mentor training.
Share this article on how MVMS is using the power of personal narratives to advance inclusion and belonging.
Contact
Please contact Graduate School Associate Dean for Inclusion & Student & Faculty Engagement Sara Xayarath Hernández (grad_assoc_dean@cornell.edu) and Associate Dean for Professional Development Colleen McLinn (futurefaculty@cornell.edu) with questions about this opportunity.
This project was developed with the Cornell Interactive Theatre Ensemble through a collaboration of the Graduate School, Future Faculty and Academic Careers, College of Engineering, School of Computer & Information Science, College of Veterinary Medicine, College of Agriculture and Life Sciences, and the College of Human Ecology.
Sponsorship
The ongoing advancement of this initiative is co-sponsored by the Graduate School Office of Inclusion & Student Engagement and Future Faculty and Academic Careers. It is also supported by the National Science Foundation under Grant No. 1647094 (AGEP CIRTL), and by the ETS/CGS Award for Innovation in Promoting Success in Graduate Education. Any opinions, findings, interpretations, conclusions, or recommendations expressed at these events and in related publications and materials are those of their respective authors and do not represent the views of the National Science Foundation.