Student Spotlight: Bhargav Sanketi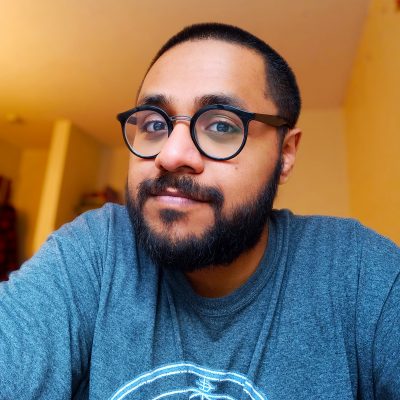 June 7, 2021
Bhargav Sanketi is a doctoral candidate in biochemistry, molecular and cell biology from Bengaluru, India. After earning an undergraduate degree from RV College of Engineering, India, he chose to pursue further study at Cornell for the faculty, facilities, and location. Sanketi won first place in the 2021 Three Minute Thesis competition.
What is your area of research and why is it important?
The small intestine looks like a random mess of loops and turns but those loops are arranged exactly the same way in every human. This is because when the embryo is developing inside the mother, the gut, which starts as a straight tube, makes very calculative twists and turns. Failure to execute the looping properly results in midgut volvulus, a deadly condition seen in young babies where the intestine knots up and gets destroyed. I study the genetic programs that control these looping processes.
What are the larger implications of this research?
The implications of this are twofold. First, we identify genetic risk factors that could be used for medically correcting and predicting volvulus or genetically counseling patients. Second, basic research reveals fundamental truths about the way cells and organisms work and that paves the way for future discoveries and medicine.
You were named first place winner in the 2021 Three Minute Thesis (3MT) competition. Can you describe the process of condensing your research into a three-minute presentation?
As scientists we place our interest in problems that on a daily basis make us think about some pretty obscure stuff no one has thought about before. But with 3MT the hope is to make a presentation that would not only catch the attention of a non-specialized audience but also pique curiosity from that obscurity. And I think that was a unique learning experience.
How will you take what you've learned from participating in the 3MT and use it in future academic and professional contexts?
I think I will definitely give more thought about who my target audience is! And I also learnt that if needed, I can elevator pitch my entire Ph.D. defense.
What are your hobbies or interests outside of your research or scholarship?
I really enjoy cooking, writing music, watching films, and swimming around in Ithaca's reservoirs when the sun is out!
Why did you choose Cornell to pursue your degree?
I loved the range of research faculty and facility, without having to be in a big and loud city!