Student Spotlight: Breanna Green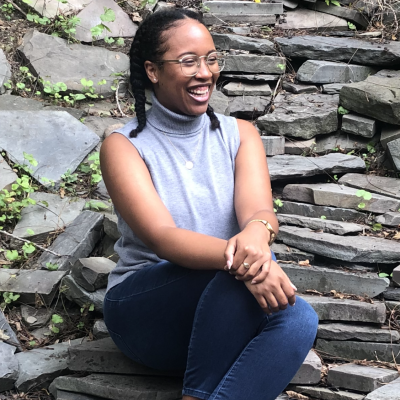 November 15, 2021 — Updated 4/11/22
Breanna Green is a doctoral student in information science from Dallas, Texas. After attending Prairie View A&M University as an undergraduate, she chose to pursue further study at Cornell due to the encouraging and supportive atmosphere of the field of information science and the breadth and depth of interests within Cornell's academic community.
What is your area of research and why is it important?
My research interests involve understanding how U.S.-based white extremist ideologies that lead to acts of violence are developed and manifested online, particularly how this radicalization occurs via social media. My work seeks to examine the psychosocial, technological, and linguistic mechanisms that propel its spread. The most salient example comes from Dylann Roof, the self-identified white supremacist who on June 17, 2015 executed nine Black parishioners following Bible study at Emanuel African Methodist Episcopal Church in Charleston, South Carolina. While events of this magnitude are rare, the process by which he developed these negative racial beliefs occurred through online searches and engagement with radicalizing online communities.
What are the larger implications of this research?
Arguably, current social, racial, and economic developments, plus numerous technological affordances of social media, have coalesced into a driving force for white extremist ideology escalation, though extremism does not always lead to violence. However, when violence is the outcome, there are many unanswered questions. The core implications here are identification and intervention of these ideologies and beliefs, from the interpersonal level through policy development. There is a need to understand how individuals come to develop these beliefs, and/or seek out these groups, and we must establish clear and definitive methods for intervening and reducing radicalization, which would require cooperation from prominent technology companies.
What does it mean to you to be a Dean's Scholar?
Being a Dean's Scholar has afforded me a confident and peaceful transition into my doctoral program, with a community of scholars where I find friendship, seek guidance and encouragement, and brainstorm new ideas. As a first generation college (and now first-gen doctoral) student, being a Dean's Scholar was one of the best reasons to come to Cornell because it is constructed for continued success. Learning how to navigate an advanced degree, what matters at this stage of an academic journey, and figuring out how to proceed forward through many obstacles has made this experience so amazing.
What are you most looking forward to in regards to being a Dean's Scholar?
I'm most looking forward to continued engagement with the academic community while here at Cornell, whether by speaking on panels, developing mentee/mentor relationships, utilizing career resources, academic conference opportunities, etc. I also hope to eventually apply for the Bouchet Honor Society, which would be an amazing opportunity that I recognize demands clear and consistent effort on my part. I know some absolutely incredible individuals who have had that honor, and I hope to impact the community in even a fraction of the way they have.
How did the idea for the inaugural Black Excellence Research Symposium come about and what did it take to make it a reality?
The idea for the Black Excellence Research Symposium can be fully attributed to Andrea Darby, the sitting president of the Black Graduate and Professional Student Association (BGPSA). In my role as the academic excellence Chair for BGPSA, Andrea shared with me her vision of creating a symposium that highlights the amazing work produced by Black students, in particular, from across the university. She mentioned that when she arrived at Cornell, she would often come across students who she interacted with in the community, but knew little about their research and interests at large. That resonated immensely with me, given I arrived at Cornell during the height of the pandemic (Fall 2020), thus my entire first year as a graduate student was virtual and felt very isolated. So, we set out to build this dream of hers.
Producing a symposium worthwhile and the first of its kind (at least to our knowledge) took quite a bit of effort, but it was amazing to see the amount of support and encouragement we received from students, faculty, and staff. Specifically, we started planning in the Fall 2021 semester which helped to organize a committed planning committee that was willing to meet often and endure a barrage of emails from me! They included students from varying fields which helped us launch a wider net on outreach to potential speakers and presenters, with Dr. Amal El-Ghazaly accepting our invitation to speak as the keynote. Additionally, we were able to secure support from various departments such as Cornell Bowers CIS DEI, Cornell OISE, and Diversity Programs in Engineering (DPE). Lastly, we graciously received abstracts and interest from both undergraduate and graduate students which allowed a successful event to take place!
Is there anything else you'd like to share about the experience of organizing this symposium?
This was the first time I've led the charge for an event like this, and I'm so thankful that Andrea entrusted me with her vision. The planning committee was absolutely wonderful and I cannot thank them enough for the effort and work they put into making this event happen. Initially, we had planned for the Black Excellence Research Symposium to be an in-person event, however we made the decision to pivot to a virtual format over the winter break given rising COVID-19 cases and concerns of another potential lock-down. I'm thankful that our pivot didn't deter anyone from wanting to make this happen, and I know that future iterations of this event can only grow bigger and brighter in the future!
What are your hobbies or interests outside of your research or scholarship?
Outside of research or scholarship, if I'm not taking a long and needed nap, you'll likely find me at the movies. Even more likely for psychological thrillers or horror films — so October is my favorite time of year! I also really enjoy arts and crafts, so I try to take my sketch book out and attempt my interpretation of a tree or a flower. No promises that the sketches ever actually look like the thing in question!
Why did you choose Cornell to pursue your degree?
Cornell is where I knew my research would thrive, given the depth and breadth of interests that you find in the academic community. The information science doctoral program, specifically, felt like a program that was open and welcoming. I reached out to current students when making my choice, and those same folks have thankfully been my biggest support system in my time here. Coming from a background in psychology (B.S. and M.S.), I recognized the pivot into information science might be striking, yet I have only ever been encouraged and supported to pursue my interests. The added opportunity to become a Dean's Scholar and to engage with the diverse, supportive, and genuinely fun community there only further strengthened my choice.