Student Spotlight: Drea Darby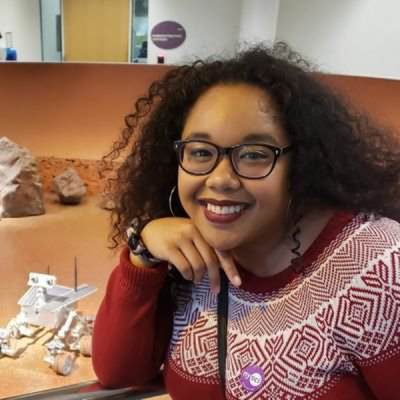 July 6, 2020 — Updated April 12, 2022
Drea Darby is a doctoral student in entomology from Las Vegas, Nevada. After earning her bachelor's degree from the University of Nevada, Las Vegas and attending the 2018 Diversity Preview Weekend, she chose to pursue further study at Cornell due to an alignment of research interests and a feeling of support.
What is your area of research and why is it important?
My research focuses on host-microbe-environment interactions. In particular, I research the impact of nutrition on infection dynamics in the fruit fly, Drosophila melanogaster. I view the host as an environment that a pathogen inhabits, which can be hostile due to antibacterial molecules and beneficial due to the presence of vital nutrients. Understanding how changes to host physiology and pathogen performance occurs in context of nutritional status will further our knowledge on the impact that diet has on surviving infection.
What are the larger implications of this research?
I am particularly interested on the impact of high sugar diets on infection outcome. Patients with hyperglycemia or type II diabetes are more susceptible to and have a higher risk of dying from bacterial infections. Fruit flies have been established as a model for various human diseases like type II diabetes and experience similar symptoms to diabetes patients when reared on high sugar diets. My research uses fruit flies as a disease model for understanding the mechanisms by which high sugar diets lead to increased susceptibility to bacterial infection.
What inspired you to choose this field of study?
My first research experience as an undergraduate was in a fruit fly lab investigating the impact of microbes on flies surviving dry environments. I just found it so amazing how organisms we cannot see have such a profound impact on the hosts they inhabit in all sorts of environmental contexts. Understanding that nutrition is a critical environmental factor in host-microbe interactions, I want to use the power of the fly to further our basic understanding of the mechanisms behind the impact of nutrition on infection. This in turn can help us understand these interactions in people.
What does it mean to you to have received a Ford Fellowship?
It means absolutely everything. I am extremely grateful to be a part of the Ford Foundation mission, which is to diversify the professoriate in the United States. Now, I am in a network with other People of Color, which is lovingly called the Ford Family. Being a part of a community of other Black and Brown academics is very powerful and impactful to me, since I rarely ever meet large networks of People of Color in general.
What will this fellowship allow you to do that you might not have otherwise?
I have the freedom to solely focus on my research. There are graduate students that rely on teaching assistantships to secure funding, which is a great opportunity to advance teaching skills, but it can be tricky to balance other expected responsibilities like research. As a Ford Fellow, I have access to professional development and mentoring that will help develop me during my journey to becoming a professor.
How did the idea for the inaugural Black Excellence Research Symposium come about and what did it take to make it a reality?
The initial thought of the Black Excellence Research Symposium (BERS) started when I was a first year Ph.D. student here at Cornell. I joined the Black Graduate and Professional Student Association (BGPSA) in my first semester to meet and engage with other Black students on campus. This was especially important because I was only one of two Black people in my whole program let alone department, which is a common theme on campus. I met so many friendly faces through BGPSA, but I wanted to also learn about the amazing research that brought us to even be here at Cornell. When I joined the Executive Board of BGPSA as secretary, I gauged people's interested in an event where we as graduate students could share our research not only within our org but even the broader Cornell community. This resonated with people within our membership because it was so often that we would build great friendships through BGPSA but know little about the work done by everyone. I also wanted to have a space where we can celebrate our research as a community and stand united in a space where so often there are so few of us. Many of us are asked to do service or be front facing people for our departments to showcase how "diverse" we are, but rarely are we given opportunities to talk about our research.
This symposium became a possibility by us having a full team effort of graduate students who were committed to making this a reality through their own experiences and networking capabilities they have on campus. None of this could have been done in isolation. Our academic excellence chair for BGPSA, Breanna Green, was integral for orchestrating the logistics and planning for such an event. Our committee member Taylor Ferebee has great experience in planning and executing symposia in the past, so her prior experience was impactful in how we shaped and plan the event. Rhasaan Bovell curated a list of offices and departments on campus to advertise our event as well as develop connections for collaboration. Destiny Vann and Jawaunna McAlister helped build our social media flyers and moderating the sessions the day of, and Firewot Gurara crafted our abstract booklet for this event. Our graduate student-led team brought all of our different lived experiences and areas of expertise to craft such a program. Support from the Office of Inclusion and Student Engagement, Diversity Programs in Engineering, and the Bowers Institute Diversity, Equity, and Inclusion Office were all integral in making this happen by them offering their resources and time to discuss how to make the first iteration of this event happen as well as how we can establish this as a longstanding event.
Is there anything else you'd like to share about the experience of organizing this symposium?
There was some stress with how the COVID landscape may impact our event. We initially envisioned it first running in person, but, given how the semester ended in the fall with the omicron outbreak and events having to be canceled or postposed in response, we wanted to minimize the stress that may come with planning this event in the time of COVID. for the peace of mind for all organizers involved, we decided for our first iteration of this event to be planned online. That way if anything does happen where we would be forced to cancel the event we at least have a virtual platform to work with instead. Despite it not being an in-person experience, our experience putting it on via Zoom was great! There was a lot of engagement in the chat and ongoing discussions that could happen in the Zoom chat that otherwise may not have happened in person. We do look forward to hosting this again in real life next academic year and trying to integrate more formal networking opportunities for Black students on campus.
What are your hobbies or interests outside of your research or scholarship?
I have a passion for advocating for a more diverse, inclusive, and equitable environment in academia. It is important to me that Black and Brown people and marginalized groups like LGBTQIA+ are protected and valued in and out of academic spaces. Currently I am involved as co-leader for the Diversity Preview Weekend (DPW) at Cornell, which is an initiative between the fields of entomology and ecology and evolutionary biology and the School of Integrative Plant Sciences to introduce underrepresented minorities to Cornell and prepare them for graduate school applications.
For fun, I love playing video games, watching anime, and making my own cosplays to then wear at anime conventions.
Why did you choose Cornell to pursue your degree?
I was a participant in DPW in 2018 as an undergrad, and that experience led me to choose Cornell. Out of all the schools I applied to, I felt like Cornell had the most support for me as a person and graduate student. There are people in and outside of my field that I felt supported by. Plus, the research my advisor engages in aligns greatly with my own interests and he is very supportive of me and my goals.