Alumna Stresses Importance of Networking – Even in a Pandemic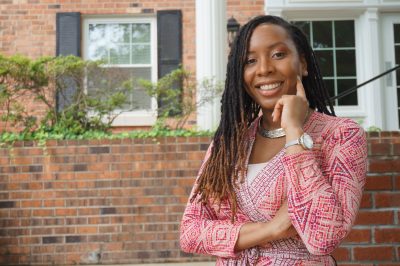 By Katya Hrichak
"We aren't an island," said Malika Grayson, M.S. '14, Ph.D. '16, at the Aug. 18 Summer Success Symposium. "We want to make sure that, although we have our own knowledge, we gain knowledge through other people."
During her session, "Activate Your Network: Developing Professional Mentor Relationships," Grayson encouraged an audience of more than 100 new and continuing graduate students to seek out both networking opportunities and mentors, citing the importance of each for personal and professional development.
"You can be a great performer and you can have a great image. But, if no one knows who you are, it doesn't matter," she said. "It's not just about who you know, but who knows you."
Grayson shared personal anecdotes, emphasizing the importance of creating and maintaining networks. In particular, she focused on how participation in a graduate student organization led her to a conference, where networking helped propel her to her current position as an application portfolio manager with Northrop Grumman.
"I was able to build a network not just on the hill, not just in Ithaca and at Cornell, but within and beyond the Ithaca community, and that really helped me," Grayson said. "There is nothing I have done where I haven't asked for advice before taking the next step in my career."
Grayson reminded those in attendance that even during a pandemic, networking is not only important, but possible through informational interviews over the phone or Zoom, online events, networking websites, and online seminars. Organizers, hosts, and attendees can all become part of one's network, and can even become mentors through further connection.
"You can leverage events you attend [to build your networks]. This is one of them," she said to attendees, inviting each of them to connect with her on LinkedIn after the event.
Grayson also reminded attendees that opportunities for connection can be created. As the second Black woman to graduate with a Ph.D. in mechanical engineering from Cornell, Grayson felt compelled to create the Black Girls' Guide to Graduate School. Through this platform, she connects with and supports many aspiring students to help them achieve their academic goals, offering personal statement revisions to one-on-one mentoring. Next month, Grayson's advice will also be available through her book, "Hooded: A Black Girl's Guide to the Ph.D."
Wrapping up the event, Associate Dean for Inclusion and Student Engagement, Sara Xayarath Hernández reminded the audience: "You're going to engage in discussions throughout your time at Cornell about mentoring because this is something that you constantly should be giving careful and proactive thought to."
The Summer Success Symposium was sponsored by the Graduate School Office of Inclusion and Student Engagement, Diversity Programs in Engineering, and the Cornell Chapter of the Bouchet Graduate Honor Society.
This event is also supported by the National Science Foundation under Grant No. 1647094 (AGEP CIRTL) and a subcontract under Grant No. 1231286 (Cornell AGEP). Any opinions, findings, and conclusions or recommendations expressed during the symposium are those of the authors and do not necessarily reflect the views of the NSF.
Related: