'Like Having an Older Sibling': Graduate Students Benefit from Peer Mentoring
March 13, 2023
By Katya Hrichak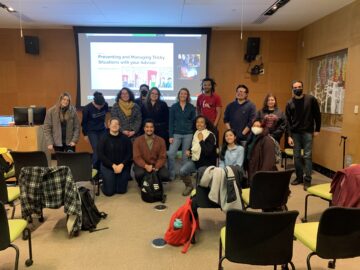 In graduate school, peer mentoring is a two-way street that benefits everyone.
Advanced students can share what they've learned through experience by mentoring early-career students. As mentees, early-career students can avoid common pitfalls and get ahead with the benefit of a more senior student who has been there, done that.
At the Graduate School, with the support of the Office of Inclusion and Student Engagement, the Multicultural Academic Council (MAC) Peer Mentoring Program facilitates these connections by pairing first-year doctoral student mentees with advanced doctoral student and postdoc mentors.
"Peer mentoring programs are important for all graduate students, regardless of whether they've been here for five days or five years," said Rikki Laser, a doctoral student in psychology and MAC co-chair.
For students like Laser and human development doctoral student Hetvi Doshi, who began their programs during the height of the COVID-19 pandemic, the MAC Peer Mentoring Program was essential to finding a place at Cornell. Peer mentors shared information about available resources and the culture of their fields while also providing support and connection.
"The peer mentoring program is like having an older sibling who has walked, fallen, and succeeded in a similar path you will be following," said Gustavo Alvarez, a mechanical engineering doctoral student and MAC co-chair. Peer mentoring also provides a space where students can express themselves more openly and informally than they might around a faculty advisor, he said.
Students in the MAC Peer Mentoring Program participate in both small and large group activities, including a monthly discussion series focused on common issues faced by early-career graduate students. In addition, each year, the program hosts the MAC Public Keynote, during which a nationally recognized scholar-practitioner on improving mentoring practices and academic culture speaks with the Cornell community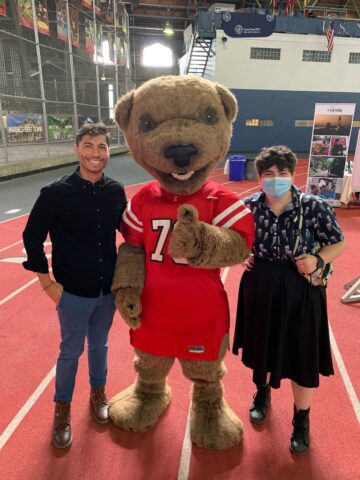 This year's keynote, "Benefiting Society by Diversifying Who Succeeds in STEM and the Academy," was delivered by Corey Welch, director of the STEM Scholars Program at Iowa State University. During the talk, Welch discussed how representation could be improved through all levels of academia and the program he created at Iowa State to encourage these changes.
"We have a system where we're not quite reaching all the people we need to reach," he said.
With the STEM Scholars Program, Welch is filling a gap by centering the needs of students from backgrounds historically excluded from and underrepresented in academia and supporting their academic journeys through peer tutoring, one-on-one meetings, and providing additional resources needed to thrive. It is important to Welch, who is Northern Cheyenne, that participants engage as their whole selves.
The attention to individuals' needs and lived experiences is part of what makes the STEM Scholars Program successful. This same kind of attention to the individual is one of the elements MAC Mentoring Program participants appreciate most about the program at Cornell.
"As a first-gen student, I'm always looking for ways to demystify the grad school process, and MAC offered a network of senior graduate students who could share helpful knowledge, tips, and tricks to ease my adjustment to my new academic environment," said Rhasaan Bovell, a doctoral student in biomedical and biological sciences.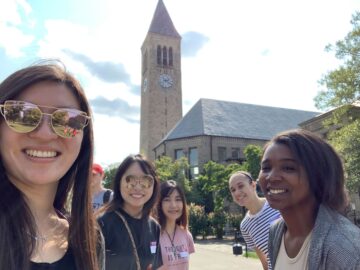 He added, "MAC brought together members of the Grad School's diffuse Black and brown populations, which is absolutely essential for building community and creating an atmosphere that supports both my professional and personal development."
The program, now in its fourth year, runs on an academic year schedule and primarily aims to support doctoral students from backgrounds historically excluded from and underrepresented in academia.
"Participating in the MAC Peer Mentoring Program makes you realize that life isn't straightforward, and there is a community of strong individuals you can turn to for support," said Doshi. "MAC creates a social foundation for future successes."
The MAC Peer Mentoring Program is a collaboration between MAC and the Graduate School Office of Inclusion and Student Engagement.