MAC Peer Mentoring Program
The MAC (Multicultural Academic Council) Mentoring Program is a collaboration of MAC and the Graduate School Office of Inclusion & Student Engagement. MAC is a graduate student organization focused on ensuring that doctoral students, especially those from backgrounds historically excluded and underrepresented in academia, can connect with peer mentors and develop positive strategies for excelling academically and personally throughout their graduate career and beyond.

MAC mentors and mentees participate in large group mentoring activities and are assigned to M&M (mentors & mentees) Pods that bring small groups of mentees together with more advanced graduate students. All mentors and mentees participate in monthly discussion sessions focused on common issues faced by early-career graduate students and participate in smaller group discussions and activities with their assigned M&M Pods.
Peer Mentors
MAC invites doctoral students going into their second year or beyond, as well as postdoctoral fellows and associates, to apply to serve as peer mentors to support the success and professional development of first-year doctoral students.
Eligibility
Currently-enrolled, full-time doctoral student or employed postdoctoral fellow/associate
Must have completed at least one year in a doctoral program
Mentees
MAC invites first-year doctoral students to apply to participate in the MAC Mentoring Program as mentees, which brings more advanced graduate students and postdocs together with beginning graduate students for monthly discussion sessions focused on common issues faced by early-career graduate students.
Eligibility
Currently enrolled doctoral student
First or second-year doctoral student
Time Frame
Peer mentor applications closed on July 20th at 11:59 p.m. ET.
Peer mentee applications opened on August 4th and close on September 1st at 11:59 p.m. ET.
The MAC Mentoring Program runs on an academic year schedule.
Meeting & Event Dates
Fall 2022
Aug. 3: Mentor Orientation
Sept. 17: Mentor and Mentee Scavenger Hunt & Ice Cream Social

Oct. 20: Monthly Meeting
Nov. 9: Monthly Meeting
Dec. 7: Winter Social
Spring 2022
Jan 25: Community Building Event
Feb. 17: Keynote Speaker
March 23: Monthly Meeting
April 29: Spring Social
Questions?
Please contact MAC at Multicultural.Academic.Council@gmail.com
Program Coordinators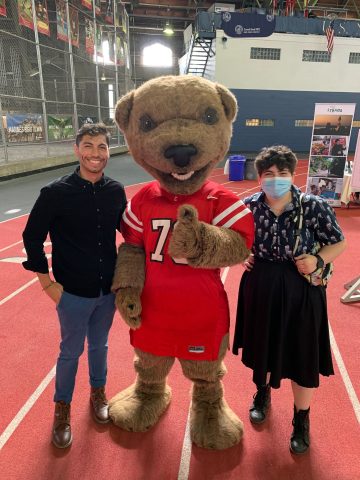 Gustavo A. Alvarez
Gustavo A. Alvarez is a third-year PhD student in the Mechanical and Aerospace Engineering Program working in the Nano Heat Energy ZT Group. He was awarded the NSF Graduate Research Fellowship, the Deans McNair Fellowship, and the Cornell GEM Associate Fellowship. Before coming to Cornell he worked in a Global Power Engineering Company called Eaton for 3 years as a Design Engineer for Uninterruptible Power Supplies and Switchgear. He loves hiking, windsurfing, and jumping off of cliffs into water. Huge fan of Thai Basil (near Ithaca Commons) and highly recommends Ithaca Beer Company.
Rikki S. Laser
Rikki S. Laser is a third-year PhD student in the graduate field of psychology. There, she studies how ambient temperature impacts parental behaviors and offspring development in prairie voles, small mouse-like rodents. She is passionate about science outreach and mentoring, and she hopes to make academia a more equitable, just, and diverse place throughout her career. When she is not in the lab, she likes to crochet and read fantasy novels.