Over 80 Students Recognized at Pinning Ceremony
November 21, 2022
By Katya Hrichak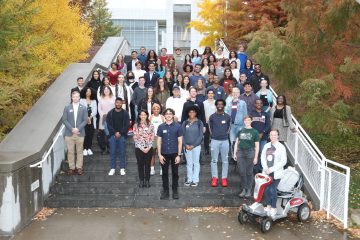 The Graduate School welcomed over 80 new Dean's Scholars on Nov. 1 at an event to honor recipients of competitive, diversity-focused fellowships.
Each scholar received a pin with a gold center containing the Cornell seal, representing the scholars' achievement, surrounded by an outer ring of silver, representing their persistence.
"You are part of the exciting change we want to see at Cornell. Each of you has demonstrated a commitment to academic excellence and to advancing aspects of diversity, access, equity, inclusion, and belonging," said Kathryn J. Boor, dean of the Graduate School and vice provost for graduate education, in a recorded address to the new scholars. "I believe each of you will achieve great things while at Cornell and beyond."
Newly pinned students join a community of over 370 current Dean's Scholars, providing them with the opportunity to establish and maintain connections across graduate fields by engaging in professional and community development events offered through the Graduate School.
During the ceremony, two previously pinned Dean's Scholars were invited to reflect on what it means to be a part of this community.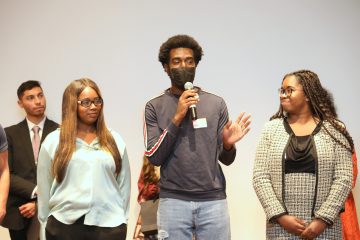 "Being a Dean's Scholar means being connected with and supported by the folks who get it and see you for the whole individual that you are," shared Mikaela Spruill, a doctoral candidate in psychology advised by Neil Lewis Jr. "I met some of the core people who would support me through the roughest times in graduate school when I was sitting in those same seats, waiting to be pinned, back in 2018."
Gustavo Alvarez, a doctoral student in mechanical engineering advised by Zhiting Tian, encouraged students to lean on this group in times of need.
"When those feelings of doubt, insecurity, or imposter syndrome arise, sometimes all we need is to be reminded of our successes and that we deserve to be here. The Dean's Scholars and the Office of Inclusion and Student Engagement community can remind you of that if you forget," he said. "You are capable of great things."
Paloma Suarez, a doctoral student in nutrition advised by Tashara Leak, is eager to develop these systems of support across the university.
"As a Dean's Scholar, I am looking forward to creating long-lasting networks that can support my work and vice versa," said Suarez. "Being able to have a supportive group of multidisciplinary people is instrumental in order to continue to be the change in our community."
Like Suarez, Sylvana Ross, a doctoral student in entomology advised by Corrie Moreau, intends to use her experience as a Dean's Scholar to support and guide future students.
"I believe I can wield hope and a promise to the future generation that they belong, without a doubt, within the world of their passions and provide a familiar face within a system not designed for people that look like me," she said. "I look forward to meeting mentors and other senior Dean's Scholars, as well as receiving the mentoring torch and being an advocate and ally for future scholars."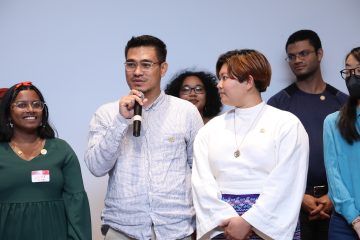 The Dean's Scholars program, led by Associate Dean for Inclusion and Student and Faculty Engagement Sara Xayarath Hernández, honors recipients of competitive diversity-focused fellowships including the Deans Excellence Fellowship, Deans McNair Fellowship, Deans Mellon Mays Fellowship, SUNY Graduate Diversity Fellowship, McNair SUNY Graduate Diversity Fellowship, Mellon Mays SUNY Graduate Diversity Fellowship, Provost Diversity Fellowship, College of Engineering Collins and Colman Fellowships, Cornell Sloan Fellowship, Cornell GEM Ph.D. or M.S. Fellowship, Cornell IMSD Program, Cornell Bowers Computing & Information Science Deans Excellence and Hopper-Dean Fellowships, and the College of Agriculture and Life Sciences (CALS) Stadtman Fellowship. Dean's Scholars also include nominated and selected scholars who have demonstrated a strong commitment to academic excellence and advancing aspects of diversity, access, equity, inclusion, and belonging in the academy and other communities.
Related:
Spotlights: