Program Prepares Prospective Ph.D. Students
November 20, 2023
By Katya Hrichak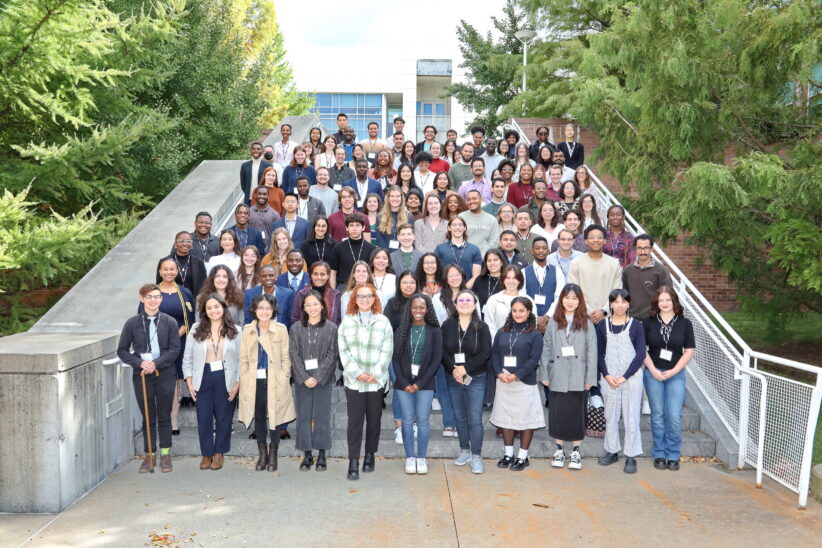 Over 110 prospective graduate students visited Cornell in mid-October to learn the ins and outs of the graduate school application and admissions processes and make connections across the Ithaca campus as participants in the Consider Cornell: Experience program.
Offered by the Graduate School Office of Access and Recruitment, Consider Cornell: Experience is a two-day, all-expenses paid, immersive program designed to demystify the entry to graduate school by providing detailed information on the application and admission processes and facilitating uniquely tailored connections based on the academic interests of each participant.
Open to all students, the program is intended to advance the Graduate School's commitment to access, equity, and inclusion and enhance the diversity of Cornell's graduate student community.
This year's cohort represented 24 countries and 39 states plus Washington, D.C. and Puerto Rico, spoke nearly 30 different languages, and expressed interest in 50 different academic discipline areas.
"We want students from all backgrounds and lived experiences to feel a sense of belonging so that they can thrive in their academic programs, personal lives, and professional pursuits," said Kathryn J. Boor, dean of the Graduate School and vice provost for graduate education, during her remarks. "When each and every one of us has the support that we need to thrive, the entire community benefits."
While on campus, participants had the opportunity to meaningfully interact with members of the Cornell community. They met with faculty, graduate students, and graduate program leaders to learn more about life as a graduate student at Cornell as well as their research and individual areas of interest.
"This is the type of environment I aspire to be a part of," said a participant in physical sciences and engineering. "Even though my visit lasted only a few days, I left with the feeling of having known Cornell for a long time."
"Through the Consider Cornell programs, we are increasing access to graduate education by empowering prospective students to make well-informed decisions about the next step in their educational careers," said Anitra Douglas-McCarthy, assistant dean for access and recruitment. "These programs are a testament to the highly collaborative nature of Cornell, with people coming together across the university with the collective goal of supporting the next generation of graduate scholars, we are grateful for the opportunity to bring bright and talented students to our campus, get to know them, and help them achieve their goals."
Consider Cornell: Experience is the second in a two-part recruitment program series. It follows Consider Cornell: Explore, a virtual opportunity offered in the summer for those interested in learning more about graduate education and the application process.
Related: