Six Postdocs Honored with Achievement Awards
September 27, 2021
By Katya Hrichak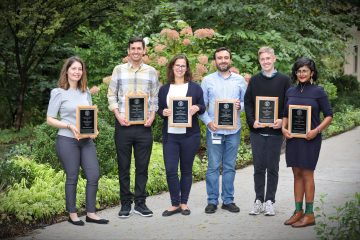 Six postdoctoral scholars have been honored with Postdoc Achievement Awards, as part of Cornell's celebration of National Postdoc Appreciation Week, celebrated Sept. 20-24.
The awards and recipients are:
Achievement Award for Excellence in Community Engagement: Annika Huber, Ph.D. '19 (chemical and biomolecular engineering), and Javier Jaimes, Ph.D. '19 (microbiology and immunology)
Achievement Award for Excellence in Leadership: Frank Castelli '05, M.S. '14, Ph.D. '17 (neurobiology and behavior) and Mathura Umachandran (classics)
Achievement Award for Excellence in Mentoring: Melisa Medina-Rivera (nutritional sciences) and Sophia Ziemian, Ph.D. '20 (biomedical engineering)
The awards recognize postdoctoral scholars who have made contributions to community and show commitment to promoting inclusion at Cornell and in society. Postdocs were nominated and endorsed by letters from faculty, staff, and graduate and undergraduate students in one or more categories.
"Postdocs are essential to the Cornell community," said Christine Holmes, director of postdoctoral studies. "In addition to contributing excellent research, postdocs serve as mentors, leaders, and engaged members in their departments, at Cornell more broadly, and in national and international contexts as well."
Jaimes was nominated for his contributions to combating COVID-19 misinformation in the U.S. and abroad. When not researching coronaviruses in the lab, he took to social media and news interviews to address common misconceptions about the virus.
"I feel honored to be recognized for my work as a scientist as well as for my efforts in engaging with the community," Jaimes said. "These past 20 months have been incredibly challenging for all of us, and I felt that as a scientist, I could contribute to counter the avalanche of misinformation people were receiving from many sources, especially social media."
Ziemian received a mentoring award for helping students acquire the knowledge they need to succeed, especially as time spent away from campus created educational gaps for many undergraduates in the lab sciences.
Mentoring is an integral component of Medina-Rivera's work as a postdoc as well.
"I've been very fortunate to have great mentors who believed in me, even when I thought attaining a degree in higher education was impossible," she said. "This award is an homage to them and a promise to pay it forward by mentoring the next generation of students from diverse backgrounds with an interest in pursuing a STEM career."
The recipients were appreciative not only for the awards, but for the broader implications of the recognition.
"I am very grateful to be a part of a community that acknowledges each other's work," said Huber.
The Postdoc Achievement Awards were established in 2018 and are awarded annually to postdoctoral scholars at Cornell.
This story is also available on the Cornell Chronicle website.
Related: