Alum/Postdoc Spotlight: Sophia Ziemian, Ph.D. '20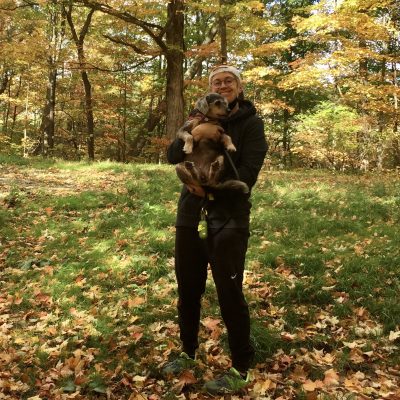 September 27, 2021
Sophia Ziemian, Ph.D. '20, is a postdoc in biomedical engineering from Lewisburg, Pennsylvania. They hold a Ph.D. from Cornell University in biomedical engineering, and their research at Cornell focuses on osteoarthritis. They are a recipient of a Postdoc Achievement Award as part of Cornell's celebration of National Postdoc Appreciation Week 2021 for their work in mentoring Cornell students, most notably helping students close knowledge gaps created by circumstances caused by the pandemic.
What is your research area of emphasis?
Osteoarthritis is a debilitating joint disease and a leading cause of disability in the adult population. While end state osteoarthritis is treated with joint replacement surgery, currently no effective therapies exist to slow disease progression. My research focuses on determining the mechanical and molecular interactions between cartilage and the underlying bone in disease development and progression. By systemically modulating bone properties prior to the development of osteoarthritis, or during its progression, we aim to understand the role of bone in osteoarthritis and assess the potential of bone as a therapeutic target for more effective disease-modifying treatments.
What are the broader implications of this research?
In the broadest sense, my research seeks to understand the underlying mechanisms that affect the development of osteoarthritis, in order to develop therapeutic strategies that will successfully prevent or drastically slow the progression of the disease. If successful, this would decrease the associated pain and debilitating effects felt by so many adults, thereby improving the quality of their lives.
What does receiving a Postdoc Achievement Award mean to you?
I am very thankful and honored to receive this special award. Mentoring and assisting graduate and undergraduate students is my favorite part of being a postdoc, so it's very exciting and rewarding to be recognized in this manner. I have been fortunate to have many amazing mentors along the way, and I am so grateful for this because I know I would have never made it this far without them. It's very important to me to give back and try to positively impact other graduate and undergraduate students in this same way.
What hobbies or activities do you enjoy in your spare time?
I am a volunteer coach for the Cornell cross country and track teams and I love working with the team. In any other free time I enjoy running, cycling, hiking, painting, and going on adventures with my dog, Max, and friends.
Why did you choose Cornell?
I chose Cornell for a variety of reasons. First, I was very excited about the opportunity to continue to work with my amazing Ph.D. advisor and mentor, Marjolein van der Meulen. I also love Ithaca and the diverse community here. Since being here, I have enjoyed meeting so many interesting and unique people from different places and backgrounds, including my impressive lab-mates, and that has made my Cornell experience so special.
What is next for you?
Honestly, that's a great question and I am still working on the answer. For now though, I am really enjoying being a postdoc in the van der Meulen lab, coaching, and trying to make some sort of positive impact on the Cornell community.
Do you have any advice for current graduate students?
I would recommend that you try to choose an advisor who challenges you academically but values the importance of life balance. Hold onto those things that you are passionate about outside of lab and find time to include them in your life to help prevent burnout. Try to take breaks, connect with others, and develop a support system. And, finally, do not be afraid to reach out to your advisor, other lab members, or other resources to ask for help if you need it.