Two Doctoral Students and Advisors Receive 2023 HHMI Gilliam Fellowships
September 25, 2023
By Katya Hrichak
Two Cornell advisor-advisee pairs were selected for the 2023 Howard Hughes Medical Institute (HHMI) Gilliam Fellows Program. Biomedical engineering doctoral student Alexander Cruz and Meinig School of Biomedical Engineering Professor Jonathan Butcher and genetics, genomics, and development doctoral candidate Don Long and Professor of Physiological Genomics and Director for the Center for Vertebrate Genomics Praveen Sethupathy were two of 50 pairs selected for this year's cycle.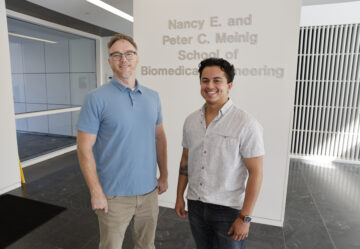 HHMI Gilliam Fellowships are awarded to student-advisor pairs based on the institute and advisor's commitment to a culture of inclusion in academia and the student's potential for scientific leadership.
"I cannot adequately put into words what it means to have received the prestigious HHMI Gilliam Fellowship," said Long.
For Long, the fellowship provides recognition that he is on the right track and allows him to rearrange some of his previously secured funding to support his research. Funds from the Fibrolamellar Carcinoma Foundation that previously paid his stipend can now be used for research aimed at finding an effective standard of care for fibrolamellar carcinoma, a goal he is very passionate about.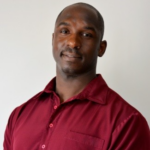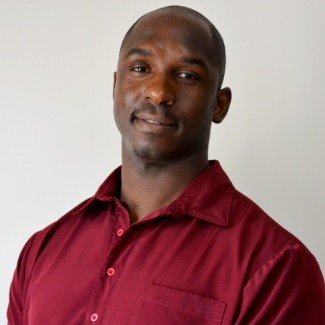 "I am so honored to have received this fellowship amongst a pool of incredible applicants. This isn't just a celebration for me, it really is a celebration to everyone who had a hand in getting me where I am," said Cruz. "This fellowship allows me to pursue my dream of obtaining my Ph.D. while also fulfilling my love for mentorship and giving back the valuable time others have lent to get me here."
As part of the fellowship, each advisor receives funds to support graduate-level equity and inclusion efforts. Butcher will offer programming that will give high school and undergraduate students access to resources, mentorship, and research with the ultimate goal of demonstrating that graduate school is accessible and attainable. Sethupathy will create a course that demystifies the "hidden curriculum" of graduate school for students from groups historically underrepresented in and excluded from the academy.
Butcher and Sethupathy, as Gilliam Advisers, will participate in a year-long mentorship development course led by HHMI's Scientific Mentorship Initiative, which will teach all participants about listening and engaging across cultures.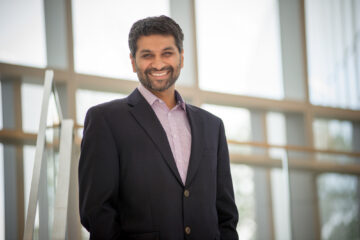 "HHMI cares deeply about promoting inclusive excellence in the enterprise of scientific research, and the Gilliam Fellowship reflects this commitment. It is an honor and privilege to be a part of the Gilliam community and to grow as a mentor and educator alongside other PIs," said Sethupathy. "Cornell has an outstanding track record with the Gilliam Fellowship, and we are delighted to help contribute to the culture of belonging and research excellence on campus."
Both advisors credit their students for the opportunities provided by the fellowship.
"The honor of this fellowship is a testament to the persistence, continuous excellence, and community engagement Alex has given throughout his long journey to where he is today," said Butcher. "HHMI has a longstanding history as supporting the very best of STEM excellence, and to be included within this group is both humbling and inspiring."
The Gilliam Fellows Program, formerly the Gilliam Fellowships for Advanced Study, was created in 2004 in honor of the late James H. Gilliam, Jr., a charter trustee of HHMI and lifelong supporter of diversity and excellence in science and education.