2021 Summer Success Symposium
August 17, 18 & 19 , 2021 | 12:30-2:00pm (ET) | Zoom
Tuesday, August 17 | 12:30-2:00 pm ET
Opening Plenary Session: I CAN: Integrating Community, Agency, and Navigation in Graduate School
Often success in graduate school is defined by the institutional metrics as opposed to graduate student experiences. This session will explore integrating graduate student agency and the co-construction of community, toward the successful navigation of graduate school. Potential topics include maintaining work-life balance, cultural integrity, investing in yourself, motivations, committee dynamics, and mentorship, among others. Attendees may be asked to reflect on their own experiences and potentially share them with others.
Access an edited recording of Dr. Windchief's talk.
Access an article about Dr. Windchief's talk.
Speaker: Dr. Sweeney Windchief (Assiniboine), Associate Professor, Department of Education, Montana State University
About Dr. Sweeney Windchief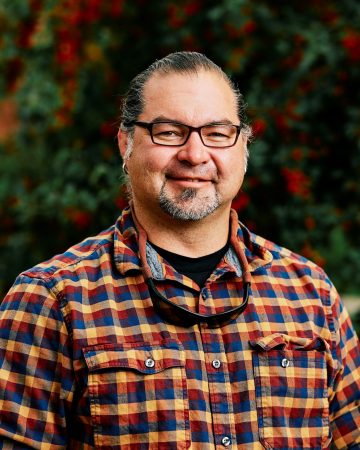 Dr. Sweeney Windchief, a member of the Fort Peck Tribes (Assiniboine) in Montana, serves as an associate professor of Adult and Higher Education at Montana State University. His research interests include higher education specifically under the umbrella of Indigenous intellectualism as well as academic mentoring. His teaching privileges include critical race theory, Indigenous methodologies in research, law and policy in higher education, and institutional research. Dr. Windchief serves as the Primary Investigator for the NSF Alliances for Graduate Education and the Professoriate – Transformation (AGEP-T) Pacific Northwest Alliance: Circles of Success-Mentoring Opportunities in STEM (PNW-COSMOS) and the Sloan Indigenous Graduate Partnership grants, and as a co-PI on the "Using Storytelling to Improve Pathways for Rural and American Indian Students Entering Computer Science under NSF HRD grant # 1657553; all of which serve Indigenous peoples. He is a third-generation college student holding a Bachelor of Science in Liberal Arts and Sciences from the University of Central Oklahoma, a Master of Counselor Education from the University of Montana, and a Doctorate of Education in Educational Leadership and Policy from the University of Utah. Dr. Windchief and his wife Sara have two sons who help keep things in perspective.
---
Wednesday, August 18 | 12:30-2:00 pm ET
Alumni Keynote Session

Graduate school can be an opportunity to grow and expand as a person, but for folks of marginalized backgrounds, the experience may cause us to narrow who we are, and what we are allowed to be. What does it look like to notice what is happening to you, right in the moment of challenge, distress, and dissatisfaction, and seek resources for change? How does it feel to choose rigorous self-care, even when you are made to feel like this is wrong, and makes you less of a scholar? How can we notice the patterns that keep us, and our communities, smaller than we ought to be? Based on my experience during my Ph.D. program and my early, non-traditional academic career, I will explore how these questions are allowing me to shape my scholarship, activism, and interior life.
Access an edited recording of Dr. Pierre's talk.
Speaker: Dr. Suzanne Pierre, Ph.D.'18, Ecology and Evolutionary Biology, Founder and Director of the Critical Ecology Lab, 2021 Osher Fellow at The California Academy of Sciences, and Visiting Researcher at the University of California, Berkeley
About Dr. Suzanne Pierre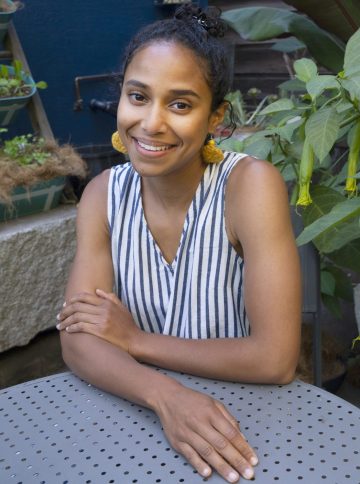 Dr. Suzanne Pierre earned her Ph.D. Ecology and Evolutionary Biology at Cornell University where she was a Cornell Sloan Scholar and Bouchet Scholar. Her current research focuses on global environmental change. She is passionate about how climate, physiology, and plant-microbe interactions set the stage for elemental cycling on Earth. She uses an interdisciplinary suite of tools from microbial ecology, stable isotope mass spectrometry, and plant ecophysiology, and more, to address these questions. Dr. Pierre is the lead investigator of the Critical Ecology Lab, a nonprofit, interdisciplinary research collaborative leading conceptual and methodological shifts away from ahistoric and asocial approaches to studying the natural environment. Through a field-building merger of natural sciences (ecology, biogeochemistry, archaeology, etc), critical environmental theory, decolonial studies, political ecology, Black feminism, ethnic studies, and more, the Critical Ecology Lab builds bridges between researchers in these disciplines to investigate the ways social and economic oppression have and continue to shape climate and environmental change. She also writes and speaks about the intersection of these issues, which boil down to the question: how do human-derived environmental conditions and concepts shape unequal societies, or potentiate justice? Dr. Pierre was awarded a 2021 Osher Fellowship from the California Academy of Sciences in San Francisco, CA. There she joins other "thinkers in residence" working in collaboration with the Academy's scientists, educators, and science communicators to contribute her expertise and perspectives to environmental research initiatives at the Academy. During her residence, she will be developing theory and practice in the Critical Ecology Lab and working on a science-driven book.
---
Thursday, August 19 | 12:30-2:00 pm ET
Mastering Your Transition Into & Progression Through Graduate School
During this panel discussion with current doctoral students from across the disciplines, panelists candidly discussed their experiences and strategies for making a successful transition into graduate school. They also shared insights on their experiences navigating their ongoing progression through their graduate studies, and their exploration and preparation for various postgraduate career pathways.
Panelists:
Joshua Garcia, Ph.D. Candidate, Horticulture (Moderator)
Josh Garcia is a fifth-year Ph.D. candidate in Horticulture at Cornell from Phoenix, Arizona. His research explores the influence plant microbiomes can have on crop traits and how they may be leveraged in developing sustainable agricultural management practices. Outside of the lab, Josh is involved with several organizations on and off campus, including the Center for Teaching Innovation, the Latinx Graduate Student Coalition, and No Mas Lagrimas. As a queer Mexican American first-generation college student, Josh strives to make academic spaces more inclusive for people from marginalized communities and challenge what it means to be an academic. In the future, he hopes to teach at a small public college and continue his community involvement.
Gustavo Alvarez Escalante, Ph.D. Student, Mechanical Engineering
Gustavo Alvarez Escalante is a second year Ph.D. student in the mechanical and aerospace engineering program working in the Nana Heat Energy ZT Group and is blessed to have been awarded the NSF Graduate Research Fellowship, the Deans McNair Fellowship, and the Cornell GEM Associate Fellowship (all in all full funding for five years). Before coming to Cornell he worked in a Global Power Engineering Company called Eaton for three years as a design engineer for Uninterruptible Power Supplies and Switchgear. Loves hiking and jumping off of cliffs. Huge fan of Thai Basil near Ithaca Commons and highly recommends Ithaca Beer Company (great outdoor seating and nice ambiance).
Taylor Brown, Ph.D. Student, Natural Resources
Taylor Brown is a Ph.D. student in the field of natural resources and is affiliated with the New York Cooperative Fish and Wildlife Research Unit and the Cornell Biological Field Station at Shackelton Point. Her graduate research at Cornell focuses on the ecology, early life-history, and spatial population dynamics of native prey fishes in the Great Lakes in order to inform fisheries management and restoration. Taylor began her graduate studies as an M.Sc./Ph.D. student in 2018, completing her M.S.c. at Cornell in December 2020, after earning her B.S. in evolution and ecology from The Ohio State University and her A.S. from Northwest State Community College. Aside from her research, she is a co-founder and active member of FiGLI, the Cornell First Generation and Low-Income Graduate Student Organization.
Elissa "E" Domingo Badiqué, Ph.D. Student, Performing and Media Arts
Elissa Domingo Badiqué (they/she) hails from Northern California and is currently a third year Ph.D. student in performing and media arts. They are a Dean's Scholar, a FLAS Fellow studying Tagalog, a graduate student co-chair at the Southeast Asia Program, and an officer at the Society for Asian American Graduate Affairs. They enjoy pop culture and are passionate about incorporating it into their research on race and performance. They are particularly interested in researching embodiments of race and gender as they relate to fandom and performance on new media platforms such as TikTok, YouTube, and Instagram. Currently, they're focused on contemporary racial masquerade through popular dance and the phenomena popularly known as "Blackfishing" and "Asianfishing."
Breanna Green, Ph.D. Student, Information Science
Breanna Green is a second year Ph.D. student in the field of information science. Her research interests span the ways in which extremist identities and ideologies are built and maintained online through various social media platforms. Before arriving to Cornell, Breanna earned both her B.S. and M.S. in psychology from Prairie View A&M University and the University of Texas at San Antonio, respectively. She also spent time working as a Research Analyst in the Institutional Research department of a large community college in Texas. Her primary advisor is Drew Margolin.
Hui-Yuan "Neo" Neo, Ph.D. Student, Government
Hui-Yuan Neo is a third year Ph.D. student in the field of government at Cornell. She studies authoritarian politics and political economy with a regional focus in Southeast Asia. She graduated with a B.A. (high honors) from the University of Michigan and has conducted fieldwork in Singapore and Indonesia and has plans to conduct them in Malaysia. Her research has been supported by the American Political Science Association and the Einaudi Center. An immigrant from Singapore, she is committed to advancing the rights of immigrants, Asians, and Asian Americans on campus and in the United States. She is involved with the Society for Asian American Graduate Affairs on campus.
Event Sponsors
Graduate School Office of Inclusion & Student Engagement, Diversity Programs in Engineering, Future Faculty and Academic Careers, and the Cornell Chapter of the Bouchet Graduate Honor Society
This event is also supported by the National Science Foundation under Grant No.1647094 (AGEP CIRTL) and a subcontract under Grant No. 1231286 (Cornell AGEP). Any opinions, findings, and conclusions or recommendations expressed in this material are those of the authors and do not necessarily reflect the views of the National Science Foundation.
This program was modeled in part after PROMISE: Maryland's AGEP Summer Success Institute.