Windchief Offers Tips for Reaching Potential in Graduate School and Beyond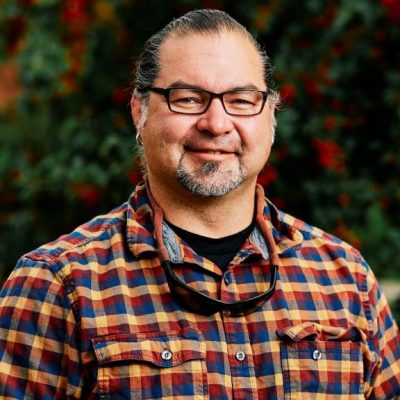 September 13, 2021
By Katya Hrichak
"You're going to find your places of work in influential circles. You're going to be influencing research, scholarship, policy, and practice, and I want to recognize both what you do and the potential that you have."
Sweeney Windchief, Ed.D., associate professor of adult and higher education at Montana State University, offered advice for reaching that potential in degree programs and beyond during the seventh annual Summer Success Symposium opening plenary session.
"I CAN: Integrating Community, Agency, and Navigation in Graduate School" addressed several ways in which new and continuing doctoral students, many of whom belong to groups historically excluded from and underrepresented in academia, can make the most of their graduate school experiences.
To Windchief, graduate student success comes from finding the right balance between personal and scholarly obligations.
"It's really important as graduate students to maintain that balance," he said. "If you're sacrificing your physical or spiritual well-being, it's going to be out of balance and your mental capacity won't be where it should be."
Windchief, who is a member of the Fort Peck Assiniboine Tribe in Montana, emphasized the importance of acknowledging the ways in which one's various identities and communities overlap or interact, and finding one's community as integral to success in graduate school and in life.
In addition to providing a system of support, he continued, community members can also help students uncover the "hidden curriculum" – "the unwritten, unofficial, and often unintended lessons, values, and perspectives that students learn in school." These lessons can be uncovered through the help of more experienced peers as well as mentors with whom students connect with during graduate school.
While graduate programs require specific classes and special committees, Windchief urged students to keep individual needs in mind when making these selections. Students often choose committee members based on the faculty member's areas of expertise or professional networks, but he suggests that they should consider their mentorship needs more broadly and consider mentors who: consistently provide critical yet constructive feedback; advocate on the student's behalf; edit skillfully; nurture a broad network; and offer to write recommendation letters. Tailoring a committee in this way provides students with support throughout their graduate studies.
To navigate a graduate program successfully, Windchief recommended creating a transition and completion plan that documents the steps for transitioning to graduate school and lists degree completion requirements. He encouraged students to connect with advanced peers for their input, based on personal experience. Once deadlines are in place, students can work backwards to ensure smooth progression through their programs.
The three-day 2021 Summer Success Symposium also featured an alumni keynote session with Suzanne Pierre, Ph.D. '18, on how her graduate school experiences have shaped her career, and a panel session with current doctoral students on mastering the transition into and progression through graduate school.
This event was sponsored by the Graduate School Office of Inclusion and Student Engagement, Diversity Programs in Engineering, Future Faculty and Academic Careers, and the Cornell Chapter of the Bouchet Graduate Honor Society with support from the National Science Foundation under Grant No. 1647094 (AGEP CIRTL) and a subcontract under Grant No. 1231286 (Cornell AGEP). This program was modeled in part after PROMISE: Maryland's AGEP Summer Success Institute.
Related: